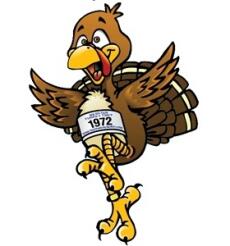 With only two weeks until Thanksgiving, the excitement and generous spirit of the holidays can be felt all around us. People are planning their meals, figuring out how to entertain their families when they come to visit, and finding ways to help those less fortunate than themselves.  We may not be able to help you with that big Thanksgiving turkey, but we can most definitely help you with entertainment and giving.
Having been around for over 40 years, the Webster Turkey Trot has become a tradition for many families around Rochester. They'll work up their appetite in the morning with a 2.5 or 4.4 mile race in Webster Park and then go home and feast on some turkey and pie. Why not make it part of your Thanksgiving tradition too??

Packet Pickup:
Saturday, Nov 21st  9am-5pm
Sunday, Nov 22nd  12pm-5pm
Monday Nov 23rd – Wednesday, Nov 25th  10am-7pm
Not a runner? We're always in need of volunteers! Join your family at this fun event, just in a slightly different way!

Help Out Your Community:
Fleet Feet Sports and YellowJacket Racing are hosting a Food Drive from November 21st to the 29th for the Hope House in Webster. The Hope House provides families with food, clothing, financial assistance, and more in order to prevent homelessness in the Webster area. We are asking that those that can afford to do so bring non-perishable food items with you to packet pickup at Fleet Feet Sports or to the registration cabin in Webster Park on race day. If you donate 4 or more food items during packet pickup, you will receive a 15% discount off your purchase of non-sale apparel at Fleet Feet Sports. All of the food collected will be donated to the Hope House to help those in the Webster community.  
We hope to see you there!