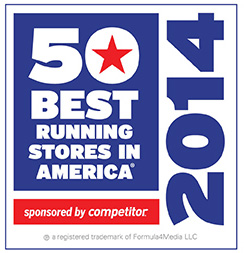 FLEET FEET SPORTS ROCHESTER NAMED ONE OF
THE 50 BEST RUNNING STORES IN AMERICA
Fleet Feet Sports Rochester, a local specialty running retailer with 2 locations in Rochester (Culver Road Armory & 2552 Ridgeway Ave), was recently recognized as one of The Best Running Stores in America by two leading trade and consumer publications, Competitor Magazine and Running Insight.
Fleet Feet Sports took its place among the country's elite retailers following an extensive nomination and review process throughout 2014. The judging culminated in the store's recognition at a gala awards ceremony in Austin, TX on Dec, 4, 2014, as part of The Running Event, an annual conference and trade expo for specialty running retailers.
The nomination process began early in 2014 with readers nominating their favorite shops on Competitor.com. This was followed by a rigorous evaluation process, including runner nominations, mystery shopping to assess customer service, credit ratings from vendors, and assessments about local programs and community involvement.
According to Competitor, "The best running stores in the US offer exemplary customer service for every type of runner, organize training programs, group runs and local races, and provide knowledge and insights about the latest trends, the newest gear, proper running form, local trails and injury prevention. In other words, it's much more about spreading the joy and passion of running than it is about selling new shoes and gear."
"This recognition is so exciting not only for Rochester, but for our staff - who work day in and day out to provide exemplary service to our customers," said Ellen Brenner, co-founder of Fleet Feet Sports Rochester and YellowJacket Racing with her husband, David J. Boutillier. "Our staff prides themselves on their knowledge and ability to help change people's lives. This award is a testament to their success."


Fleet Feet Sports will be featured in a special issue of Competitor Magazine distributed nationally. The store will also receive a commemorative plaque to mark the award and a special window sign supplied by Competitor that indicates the store as a 50 Best 2014 winner.
About Fleet Feet Sports
Fleet Feet Sports, a locally owned and operated specialty store carrying footwear, apparel and accessories for walkers and runners, has two area locations: Fleet Feet Sports @ The Armory, 155 Culver Road, Rochester, NY 14620 and Fleet Feet Sports Ridgeway, 2522 Ridgeway, Ave, Rochester, NY 14626. A third location, Fleet Feet Sports Buffalo, 2290 Delaware Ave, Buffalo, NY 14216, was recently acquired. At each Fleet Feet Sports, you will find a welcoming environment where runners, walkers and fitness enthusiasts of all abilities receive unparalleled service and support. For more information, visit www.fleetfeetrochester.com.