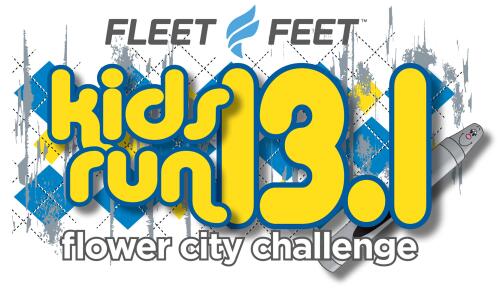 Kick Off - Sunday, April 28, 2019 
Introducing the Kids Half Marathon​
The Kids Half Marathon is a great way for kids 12 and under to participate in the Rochester Regional Health Flower City Challenge.  As a participant, your child will run or walk the distance of a half  marathon (13.1 miles) over the course of three weeks.
How It Works
At the Kids Half Marathon Kickoff (Sunday, April 7th at 10AM at Fleet Feet @ The Armory (155 Culver Rd, Roch., NY 14620)), the first mile will be run together. This is where you will receive everything you need to complete the Kids Half Marathon. Then using the honor system, your child will track the miles they run or walk (in 1/4 mile increments) on their official tracking form. Their goal should be to complete 4 miles each week for a total of 12 miles.
To keep them motivated along the way, they can bring their tracking form into either Fleet Feet location (Armory, 155 Culver Road or Ridgeway, 2522 Ridgeway Avenue) to receive a high five and a toe token once they've reached certain milestones. These rewards are available any time the stores are open.
On Sunday, April 28th at 10:40AM we'll gather at the Blue Cross Arena (corner of Exchange and Court) to complete the final 1.1 miles of their half marathon. Once they cross the official Rochester Regional Health Flower City Half Marathon finish line, they'll receive their official Kids Half Marathon finisher's medal!
Registration Details
The cost of the program is $13.10
Registration will close at 11:59pm on April 7, 2019
Adults runners can accompany their child on their final 1.2 mile run/walk on April 28th. However, for safety reasons, we ask that you register in advance. There is no fee.
Click Here to register online
There are no on-line processing fees! All RunSignUp processing fees are being paid for by YellowJacket Racing!


Important Dates
Kids Marathon Kickoff | Fleet Feet @ The Armory | Sunday, April 7th at 10am (Registration opens at 9am) 
Fleet Feet Health & Wellness Expo (Packet PickUp) | Fleet Feet @ The Armory | Fri, Apr 26th 10am-7pm & Sat, Apr 27th  9am-4pm
Race Day | Blue Cross Arena | Sunday, April 28th at 10:40am
What's Included
Official Mileage Tracking Form (available at the Kickoff)
Kids Half Marathon Decal (available at the Kickoff)
Special Savings At Fleet Feet (vouchers available at the Kickoff)
Weekly Training Tips (via an electronic newsletter)
Endless Encouragement from Fleet Feet Outfitters (as often as needed, just stop by either store)
Toe Tokens (available from Fleet Feet once you've reached the milestones of 2 miles, 4 miles, 6 miles, 8 miles, 10 miles & 12 miles)
Weekly Group Run/Walk (optional group workouts from Fleet Feet )
Kids Half Marathon Race Bib (available at the Fleet Feet Health & Wellness Expo on April 26th & 27th)
Kids Half Marathon Finisher's Medal (available at Blue Cross Arena on April 28th)