Join us for Fleet Feet Gives Back Tour de Cure Day! - Sunday, May 6th 
Fleet Feet Sports is hosting a special event and shopping day for Tour de Cure.  All are welcome!
11AM Dancing for Diabetes ZUMBA Class – Join us for an hour of ZUMBA in the Gallery next to Fleet Feet Sports.  Just $15 with proceeds going to the Tour de Cure, dance your heart out to help find a cure for Diabetes.  All abilities welcome.  Register here: https://ticketbud.com/events/4aadd86e-380d-11e8-b35e-631c27972b9b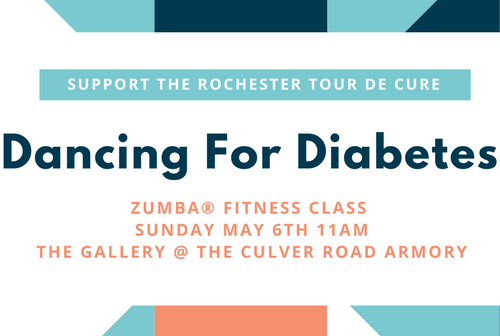 12-5PM Fleet Feet Gives Back Shopping Day – Join us at either Rochester Fleet Feet Sports Location (Armory – 155 Culver Rd in Rochester or Ridgeway – 2522 Ridgeway Ave in Greece) whereby 10% of all in store sales will go towards Tour de Cure fundraising.  If you've never been to Fleet Feet Sports before here is your chance to get fit by our NEW FITid 3D footwear scanner, which provides an indepth look at your size, shape and width of your foot like no other footwear fitting device.  Plus our FIT Specialists can assist with finding the right apparel, sports bras, nutrition and injury prevention tools.

The Rochester Tour De Cure's Mission is to support the American Diabetes Association as they lead the fight against the deadly consequences of diabetes and fight for those affected by diabetes. 

We fund research to prevent, cure and manage diabetes. 
We deliver services to hundreds of communities. 
We provide objective and credible information. 
We give voice to those denied their rights because of diabetes.
Join the Fleet Feet Sports Tour De Cure Team for a day of Fun, Fitness, and Fundraising.