B.Y.O.M.
(bring your own mug)
Monday Fun Day Workout
December 26th at Ridgeway, 6pm
There's no better way to extend that warm cozy feeling of the holidays than with our Monday Fun Day Workout at Ridgeway! The temps may be a bit winterish for your choice of 2, 3 or 4 miles, but we'll warm up afterwards with some delicious hot cocoa. And we have some extra fun photo ops planned - so get ready to smile for your Mug Shot!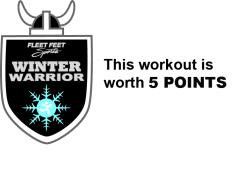 Click here to join our Winter Warrior Program!