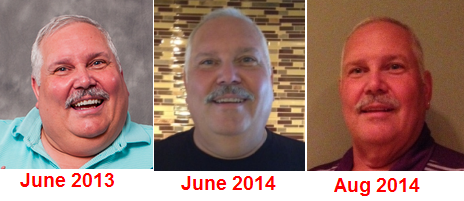 I have never been one to spend a lot of time or energy thinking about diet or exercise.  As life went along, I slowly gained a few pounds each year until I hit my all-time high last year.   I knew I needed to do something but all previous attempts only led to me losing time, not the weight I desired to shed.  My wife happened to mention that she had heard about this program at Fleet Feet Sports and invited me to join her for an info session – that was in April 2014. 
            When we heard Katie describe the program and its focus on being responsible for your choices each day I was intrigued.  I loved the idea that there was a nifty app that helped me track my calories, and even one to map my walks and link up to the food tracker – I was hooked.  During our first session everything just clicked for me – I became totally focused on tracking my daily calories in MyFitnessPal, redistributing my meals to 5 small ones instead of 3 larger one, and became active by walking and walking and walking. 
            I forgot this was a friendly competition and spent my days aimed at staying below my calorie goal, and getting the required walking in to maximize my weight loss and become an active person once again. Each week I made my weigh-ins, I was at every open workout and on other days I became a walking machine.  The pounds started coming off – I was losing an average of 3-5 pounds per week and was beginning to feel better than I have in years. 
            Fast forward through the session, and at the final celebration I was truly shocked to learn that I was one of the leading men for percent of weight lost – I never realized I was doing that well.  I have managed to sustain most of my loss (almost 60 pounds in total) and have been a mentor for this program ever since.  This fall session I am again serving as a mentor as well as rededicating myself to losing some additional pounds as a participant. 
            If you are not sure about whether or not this program is for you, what have you got to lose but some weight, and you get to meet a really great group of people just like you who wish there was a magic pill – that isn't going to happen so get up, join us, and let's do this together.