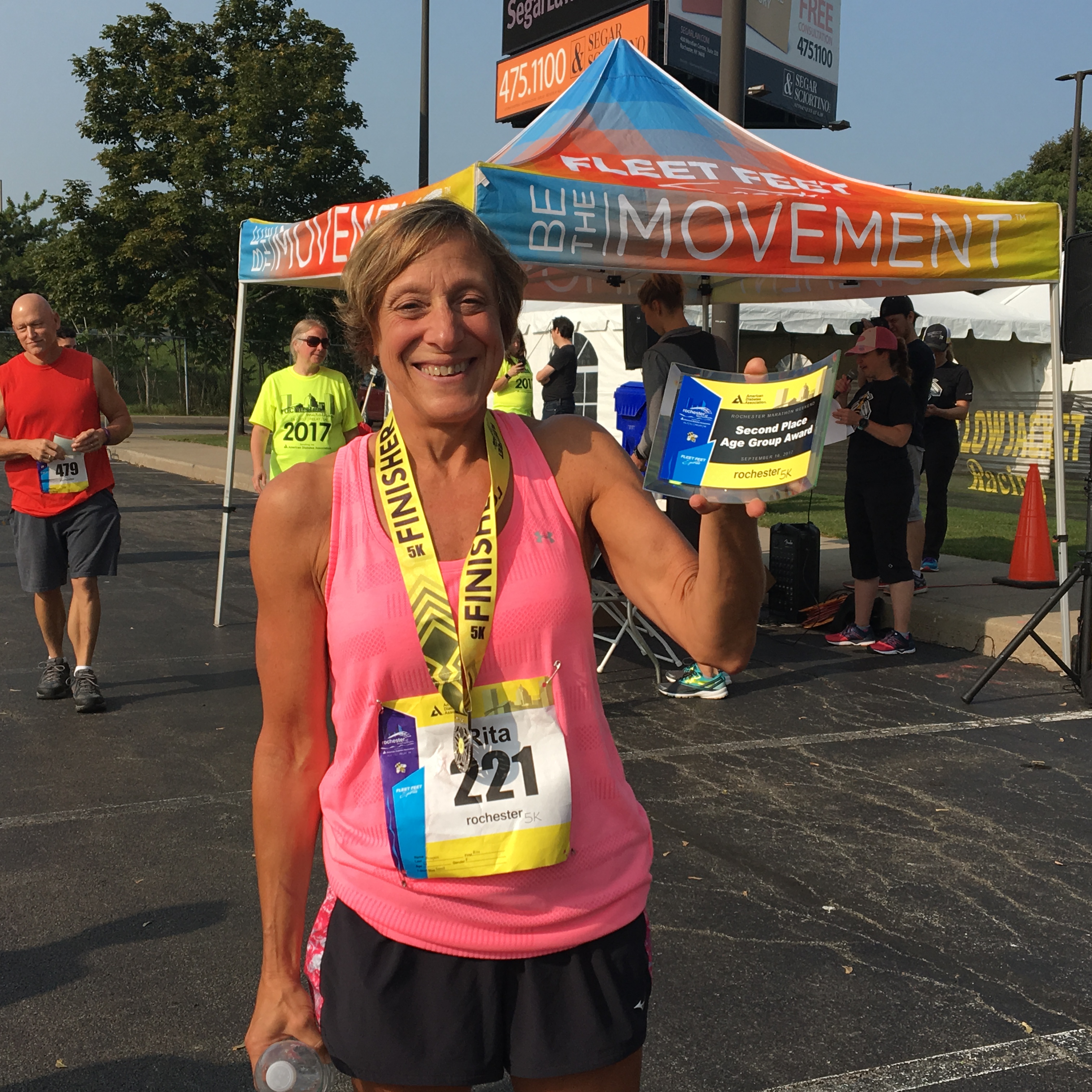 January 2017, I was about to turn 58; it was a scary thought.  I had always been in good shape, biking, swimming, working out at the gym.  However, over the years, the demands of raising a daughter, managing a household, and working full-time took up all of my time.  Little by little over those years, I just fell out of the habit of exercise with the exception of daily walks with my dog.  So, as I approached my late 50's, the effects of age plus no regular exercise did not feel (or look!) good.
I had always wanted to be a runner.  I envied what they could make their bodies do.  I watched my daughter and her cross-country teammates and was in awe of them.  They were my heroes!  I wanted to be able to do that but knew I would never be that kind of a runner.  But I at least wanted to give running a try.  I had heard a lot about Fleet Feet's No Boundaries Learn to Run program and thought from time to time about signing up, but was a bit intimidated.  I wondered whether I would fit in; I worried that my body wouldn't cooperate.  But finally I decided to bite the bullet and give it a try.  My intent was to learn to run the correct way, then take what I learned and run on my own.  For my birthday, I asked my husband to register me for the session that would begin 3 days after my 58th birthday.  And that was his gift to me, along with a brand new pair of running shoes.  He also signed himself up to go with me.
.
And that is how I began my life as a runner.  I met great people and found that I really loved running and was even not that bad at it!  I ran my first 5k that spring and when the session ended, I felt something was missing from my week.  I signed up for the next session, and then the next two.  I have now completed 2.0 and two sessions of 3.0.  I persevered through Winter Warrior, have run in six more 5ks and four Snow Cheaps, even earning four trophies for placing in my age group!  I've shaved 8 minutes from my first 5k and have increased both my speed and my mileage.  Now, as I approach my second summer of running, I am contemplating signing up for HFM training. 
.
Through No Boundaries, I have met some of the greatest people I know and look forward to seeing and running with them each week.  Without the encouragement and support of Kate, Ellen, Jackie, Jeff, Scott and Sean, and my many fellow runners whom I now consider friends, I never would have become a runner.  I am running, not like those girls on the cross-country team to be sure, but running just the same.  I feel better than I have in years.  Running has helped me to better accept turning 60 next year (!); it makes me feel young again.  Fleet Feet is my happy place, and taking that first step has made such a difference in my life. 
.
-Rita Prosperi