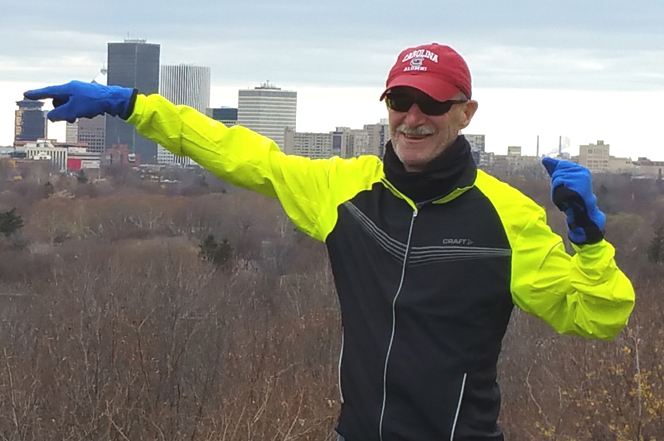 It was never my plan to take up running. A doctor suggested that routine brisk walks would improve my general fitness and more specifically help me deal with multiple sclerosis. It was a good and sensible plan – except the walking somehow evolved into walk/run intervals. By spring 2015, less than a year later, I was running 3 miles several times a week. I ran my first 5K race in June. But the best training plans and best intentions seemed for naught when I fractured my foot in July during a 4-mile run. I was forbidden from running for 6 weeks. It turned into a 10 week layoff when I foolishly tested the foot with a short run a month later.
When I finally got the thumbs up to resume long walks my doctor recommended that I reintroduce running gradually. I showed her the descriptions of the No Boundaries programs and she liked Introduction to 5K. "Just start at the beginning and use it as your rehab," she recommended. Besides the gradual lengthening of running intervals, the program offered plenty of supervision and support from coaches and mentors. I was struck by how they made it a point to touch base with the runners and how they offered advice and encouragement during every workout. Just as important, they kept us focused on the current workout, not on the ultimate goal of running a 5K race. This was comforting because first and foremost on my mind was preventing re-injury from overtraining.
There was a benefit to the No Boundaries program I did not foresee. For nearly a year I had been training by myself, heading out several days a week to run a familiar course with no company other than music on an mp3 player. In contrast, when you train with No Boundaries you are with a community of runners, all of them mutually supportive. There is an esprit de corps, a common goal and devotion to the workouts and to each other. This is the essential element that was missing when training on my own. I remember one workout in particular – a chilly rainy night when our shoes got drenched and feet were cold – and at the end we felt like we had completed a rite of passage. As wet as we were, there were a lot of smiles. The coaches and mentors were quick to reinforce that sense of accomplishment as we did our post-run stretching exercises. The No Boundaries shirts are emblazoned "Running Changes Everything." I think there is a corollary to that motto – namely, "Running With A Group Changes Everything." I'm indebted to you all.
– Larry Wallnau