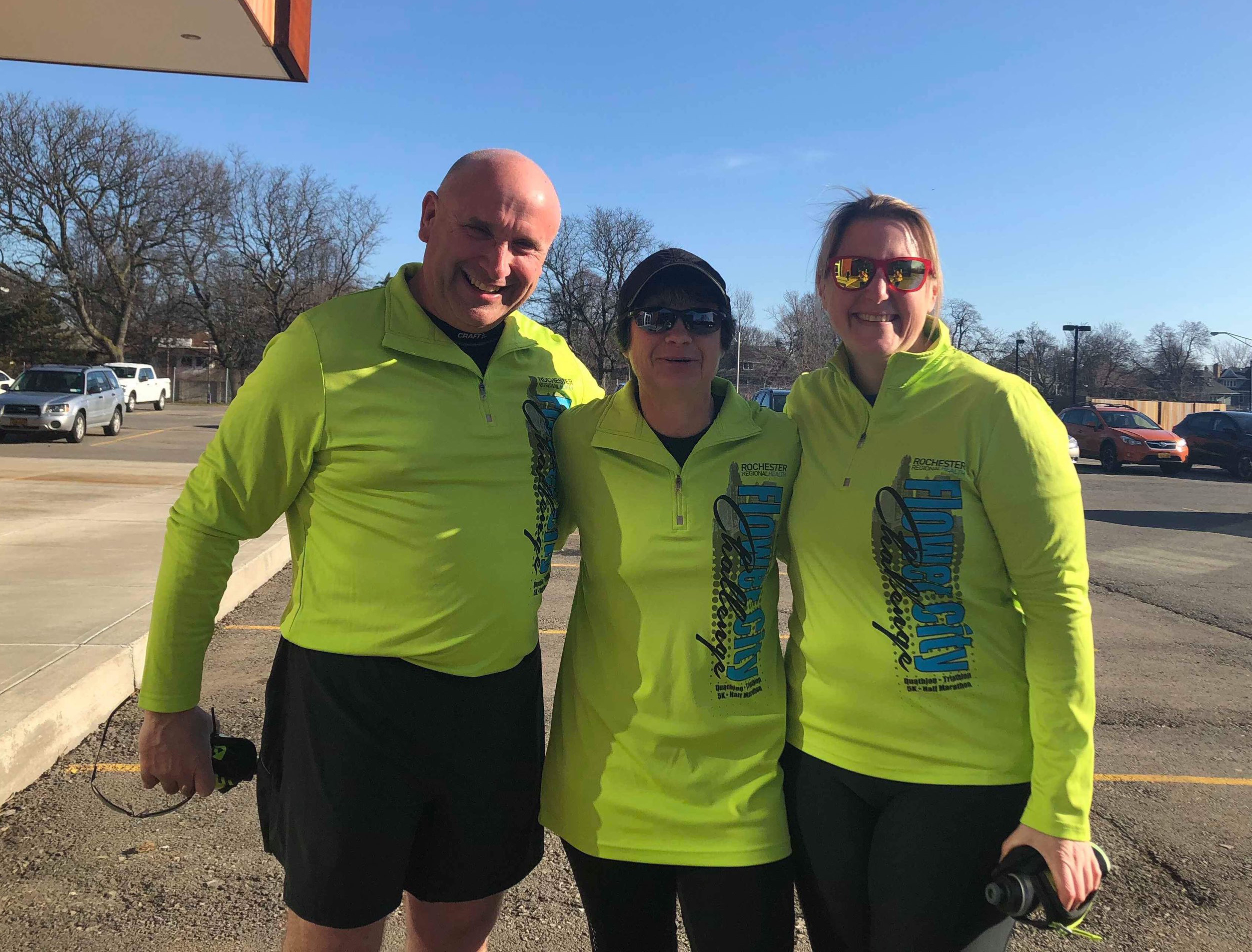 Three people from different backgrounds and life stories randomly met one cold December night in 2016 on a hill workout for the Winter Warrior Challenge through Fleet Feet at the Armory. We found ourselves running up the hill at the same pace and just looked at one another and said "hi". Unbeknownst to all of us, this simple greeting turned into a "I'll see you guys next week." Our friendship started to grow, and we began planning races together. Running was in all of us, even though at least one of us really didn't consider ourselves to be a runner. This accountability through running became the foundation to where a friendship was built on top. Building trust and loyalty though the friendship, we encouraged and believed in one another.
We challenge each other by saying "I bet you can". This has been a core staple. From initial thoughts of bettering a 5k pace and not dreaming any further than that, turned into an accomplishment of running the Spring Forward 15k, and then the Flower City Half Marathon. Dreams started to develop and wondering if a marathon was in the cards. Several more races were run throughout the summer of 2017, and then the decision was made to run with the HFM group to train for a marathon.
Through HFM training with Fleet Feet, all of us started running longer distances, pushing boundaries we never imagined. One of our favorite memories is the three of us collapsing on the cool grass outside of the Armory one Saturday after our first 15-mile run. We were blown away at the accomplishment of this run and wondered how much more could we push ourselves. Lani and Scott signed up for the Corning Wineglass Marathon in October of last year. It was a day never to be forgotten by all of us. Mari cheered her heart out for her two favorite runners and met them along the way at several points along the route. Seeing each cross the finish line was a culmination of all the hard work, time spent, miles run, tears shed, and joys just coming together all in one moment. Mari ran the Chicago marathon in late October, and even though she didn't have her buds in person to cheer, they were in her heart, written on her arm and texting her along the route as they watched her progress on the mobile app. It was also an amazing day that will never be forgotten. The pact we have now made is we run together. If we can't get into the marathons by lottery, we go and cheer for those that did.
We've made such a tight bond with one another throughout this last year and a half, where we communicate every day and discuss whatever is the newest subject. We check in with each other about our runs, but also on how everyone is doing. We've helped each other "run off the crazy" when things go awry with our jobs (including a layoff) and our personal lives. We are the solid constant that is always there. We've been so lucky to add other friends to our close group and each of us say every day that we are so blessed to have each other and our other friends. We look forward to seeing each other at every event or get together.
None of this would have happened if it wasn't for Fleet Feet Rochester. All that we have experienced in the Learn to Run 5K (NOBO) to HFM Training and recently in the Core Workout and Urban Fit Programs, we just say thank you to Boots and Ellen, the staff and coaches and mentors that have helped us along the way. We have been given an opportunity to participate and push ourselves further than we ever imagined.
Looking back at the past year and a half or so, we all had different reasons for starting our running careers. We all agree that it has been "perfect timing" in so many levels for what we have experienced in our training, our races and our personal lives. For the future, we know we will have many races to run, not always are we stressing on our finish times, sometimes we just concentrate on the distance between the start and finish line. We do though have one common thread that is shared by the three of us that is our friendship will always be that constant in our lives.
Our Sole Story: Mari Foley Lani Miller Scott Winslow