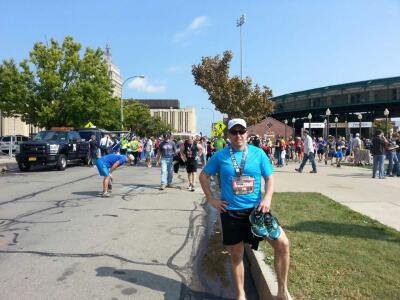 September 18, 2013 - I turned 39 years old and feel way out of shape to keep up with my then 6 and 1 year old boys. Being a multi-sport athlete in high school, I wondered to myself how could this happen. I found a workout partner and joined the gym that October. Week after week I forced myself to the gym to get some cardio and lift a few weights. I started to feel better and lose a few pounds. I did not want to be a 40 year old father on maintenance drugs for the rest of my life. I lost both my parents when I was in my twenties. I want to see my kids get married!
Six months go by and I start to get into a rut. My work had posted something about a Wellness Challenge. Get two teammates, set a goal and work as a team for 6 weeks to get fit. I couldn't find anybody to join it with me??? So, I signed up for by myself. I made a lofty goal to push me thru this rut I was in. The last day of the challenge was to be our families first day of summer vacation, PERFECT! Every mile you walked or ran you get a point. Eat three salads a week get a point. Do planks 5 times a week get a point. I found the quickest may to earn points was to run and run A LOT! I remembered that I HATED running in high school. My knees where bad from wrestling?? I guess just more excuses.
I started to read blogs about running and doing other research. Every where I read it said if you can run 21 miles you can run a marathon. So one Sunday afternoon in June I went for a run. I had a Camelback from a past bike riding summer, a pair of COTTON shorts, a COTTON shirt and some sneakers. You can see where this is going. Down the Erie Canal in Dewitt I went. Somewhere around halfway of this 21 mile run I came across a fellow runner. She is a family friend that was out for a run too. This gave me some much needed encouragement on this crazy run I was on. About a mile from my finish doesn't her husband pass me on the road and cheer me on too! I finished it, needless to say I couldn't feel the inside of my thighs for a couple days!

This is where Fleet Feet Sports comes in. I went to our local Fleet Feet Sports, about a mile down the street. Get fit for some new kicks and get some GLIDE!!! I search for the closest FULL marathon around my 40th birthday, Rochester on 9/21/2014. I printed off a training plan I found on the internet and away I went. I still didn't feel like a runner and sorta "winged it". I went out where the local Fleet Feet Sports had there Sunday morning runs and did different loops they had to get my mileage. I didn't have a Garmin or a Smartphone with enough space to download a running app. Yes, I used Mapquest, paper and pen to figure out routes and mileages. I signed up for a training half marathon for 9/6. I thought this would help with water breaks, nutrition and getting used to a crowd. I finish much better then I thought I would. I got my first earned medal(for anything) in some time. Then I got a second medal for placing in my age group, I WAS SHOCKED!
The BIG RACE - I had a hotel room overlooking the start line and the stadium lights in the background. Everything was running thru my mind. I got very little sleep, before I knew it was time to get ready. I head to the start line with my homemade pace band of 4:00:00 taped to my wrist and butterflies in my stomach. The National Anthem, fire trucks with the American flag, the people, it was a lot to take in. Then we were off and running. The runners, the volunteers and the spectators were ABSOLUTELY AMAZING!!! I got sucked into the 3:30 pace group..... yes 3:30! Really what was I thinking? Around mile 13 or so, when we hit the Canal and the rain came, I had to slow down. I keep moving mile after mile. I remember a guy passing me saying you got this! You haven't stopped once. He was slowing at water stations and catching back up. I remember talking to myself the last several miles and people just kept on cheering! I finished!!! 3:59:13 A pace some people said was ridiculous for a beginning runner? I followed the FB posts after the race and saw everyone still cheering each other on. I found the 3:30 pacer and sent him a thank you message for all the support. This is the point I realized I had THE RUNNING BUG!
I changed my entry for the Empire State Half Marathon to the full. I know it was just four weeks after my first ever full, but I thought I could better myself. I was very familiar with the course and got a PR by more then 15 minutes. This lead me to a much needed 6 week recovery program. That is when I got REALLY crazy and registered for The North Face Endurance Series Challenge 50K @ Bear Mountain. Five month training program with a Central NY winter and haven't really been a runner for a full year? I have found several different running groups to get miles in with. I have the computer to chat with fellow runners. I have Fleet Feet Syracuse go for support! Also, Fleet Feet Rochester I can go to for support. Just last week I made the short trip to the Armory to get a new hydration pack. We couldn't find the one I was set on getting in 'Cuse and you had it. Overall my life has FULLY changed since I found running. I realize that I am very fortunate to be able to do this. I truly appreciate all the support the running committee gives to lead a healthy life (mentally and physically)! Because of the Rochester Marathon and the Rochester runners I have become an ambassador for running, walking and just flat out leading a better life! Hope to see you at a race in the future.
-Michael