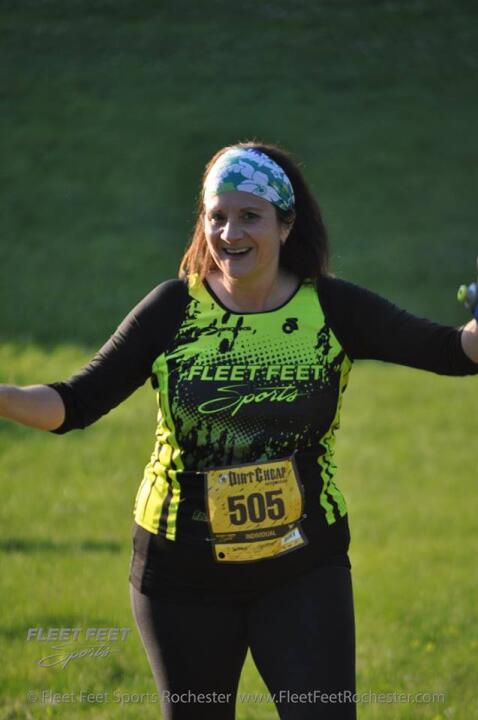 I can't remember a time in my life when I didn't think about my weight. I've gone up and down in size, and either been on a diet or thinking I should be my whole life.  I've looked at someone thin and felt a kind of longing and envy I'm ashamed to admit. I've put off things because I've been "too fat". I've had times when I've succeeded and been thin, but then fallen in to old habits and gained the weight back.
After my divorce I lost over 65 pounds, but backslid and gained about half of it back. Thirty pounds meant having to put the skinny size 6 clothes in a box in the basement, and a feeling of "you're fat" dogging my thoughts. I'd taken up running, so I was healthier, but I was still wearing size 14s and looking at my belly in the mirror making faces at myself.
So when Fleet Feet introduced the Ton of Fun program, I signed up. I jumped in gung-ho, lost 6 pounds in the first few weeks and then stalled right out. I liked the support of the Facebook page, I learned a lot from the portion control talk, but I was still falling into old habits. Session 2 fell over the holidays so I skipped it, thinking I could just maintain on my own. That weekly weigh-in accountability went away, and so did my will power. Session 3 found me back in my determined mindset, and ready to take responsibility for myself. I used the My Fitness Pal app that some fellow Ton of Funners swore by, and tracking my meals led to a slow, steady loss. I dropped 21 pounds, my race pace improved, and I got to buy some new clothes (no, the tiny size 6s were still out of reach). I'm not going to lie--there was no magic bullet, losing the weight wasn't easy. Ton of Fun didn't do it for me, but the support of the other participants gave me inner courage to do it for myself. It was nice to not be judged, and to openly admit that I still ate when I was bored or lonely. I turned to the program for recipes, for comradery, for a cheering crowd when I did well or a shoulder to cry on when I had a bad weigh-in or a rough week.
I loved how the program was there for me, even as I had to learn to stand on my own two feet. I started cooking more, and experimenting with healthy recipes. I even tried homemade green smoothies!
It's been almost a year and a half since my successful session, and while I did put about 10 pounds back on, I've kept the lessons I've learned, and the support I gained from Ton of Fun.  I'm 50 now, an age where it's hard to stay in shape, but I'm positive I can, and maybe even lose a little more (I'm not giving up on those size 6s in my basement just yet!)