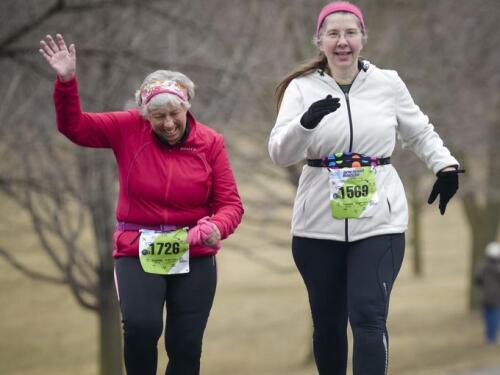 In April, 2011 two women ran their very first race, the Flower City 5K.  They each struggled mightily but as their training had taught them, they just kept putting one foot in front of the other.  And then they each realized their dream and crossed the finish line within 40 seconds of each other.  It was the first of many times they would hear their names announced by Ellen Brenner as "finishers."  However, it was the first and last time they would hear their names read individually!  It was all teamwork after that day.
Carolyn Fleming and Ann Llewellyn found more than a training program at Fleet Feet of Rochester.  They discovered a friendship that has touched their lives with countless blessings.  They both agree that their meeting each other shortly after that first April race was destined from the start.  They have stopped counting all the No Boundaries programs they have mastered but rumor has it that there have been nine.  Their tenth will be this summer for Walk Fit half marathon. 
Carolyn and Ann believe wholeheartedly that training in a group format has been the key to success.  Together they have finished over 60 races including two half marathons.  Their lives have been touched deeply by their coaches, mentors, fellow participants and each other.  Forty seconds separated them in that first April, 2011 race when they had not yet met.  They now end every race together and are thrilled their paths (and pace groups) were a perfect match.