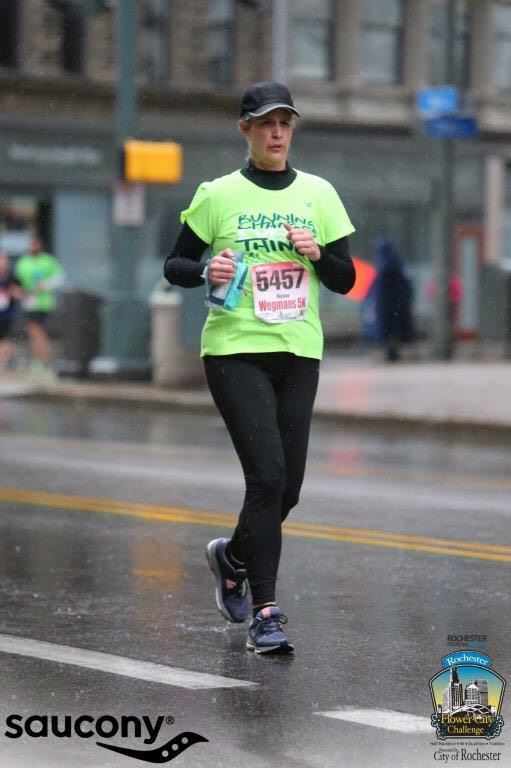 January 7, 2017 – unbeknownst to me, my running journey was about to begin.  On that day, I walked into Fleet Feet Sports for the first time looking for a good pair of sneakers. I was not a runner and had no plans to start. Walking was my thing and someone referred me to Fleet Feet to get fitted by a specialist.  Armed with my new sneakers, I found myself looking at Fleet Feet's website where I stumbled on the No Boundaries Learn to Run program.  I was convinced that I could never run, but thought I'd give it a try because you never know.
Less than a month later, I'm signed up for the No Boundaries Learn to Run program and it's kick off night.  Week after week, I show up at the group training workouts.  Each week the coaches have me running longer and longer and each week I'm thinking they are crazy.  I can't run this long . . . but I did.  The entire session I was filled with self-doubt, but the coaches and mentors kept telling me, "You can do this.  You ARE doing this".
April 2017 was the graduation race: the Wegmans Family 5k.  As I stood at the start line, I was both nervous and excited.  Then Ellen, the co-owner of Fleet Feet Sports Rochester, shouted GOOOOOOOOO and I started running.  It started to rain but I kept running.  As I came around the last corner and saw the finish line, I couldn't believe it.  I had succeeded in running my first 5k!  It was a moment I will never forget.
Over the last year, I've done things I never thought I'd do.  After completing the 5k, I signed up for No Boundaries 2pt0 in the Spring of 2017, and then 3pt0 in the Fall of 2017, and I have run 8 miles!  I've done trail runs where I was covered in mud from the knees down, and ran in zero degree temperatures.  It's been amazing!
I have met so many wonderful people since I began my running journey.  The friends I have made have pushed me and supported me.  They have introduced me to new things and made my world a better place.  It's been just over a year since this all began, and I can't wait to see what's next! 
Alyssa Sand