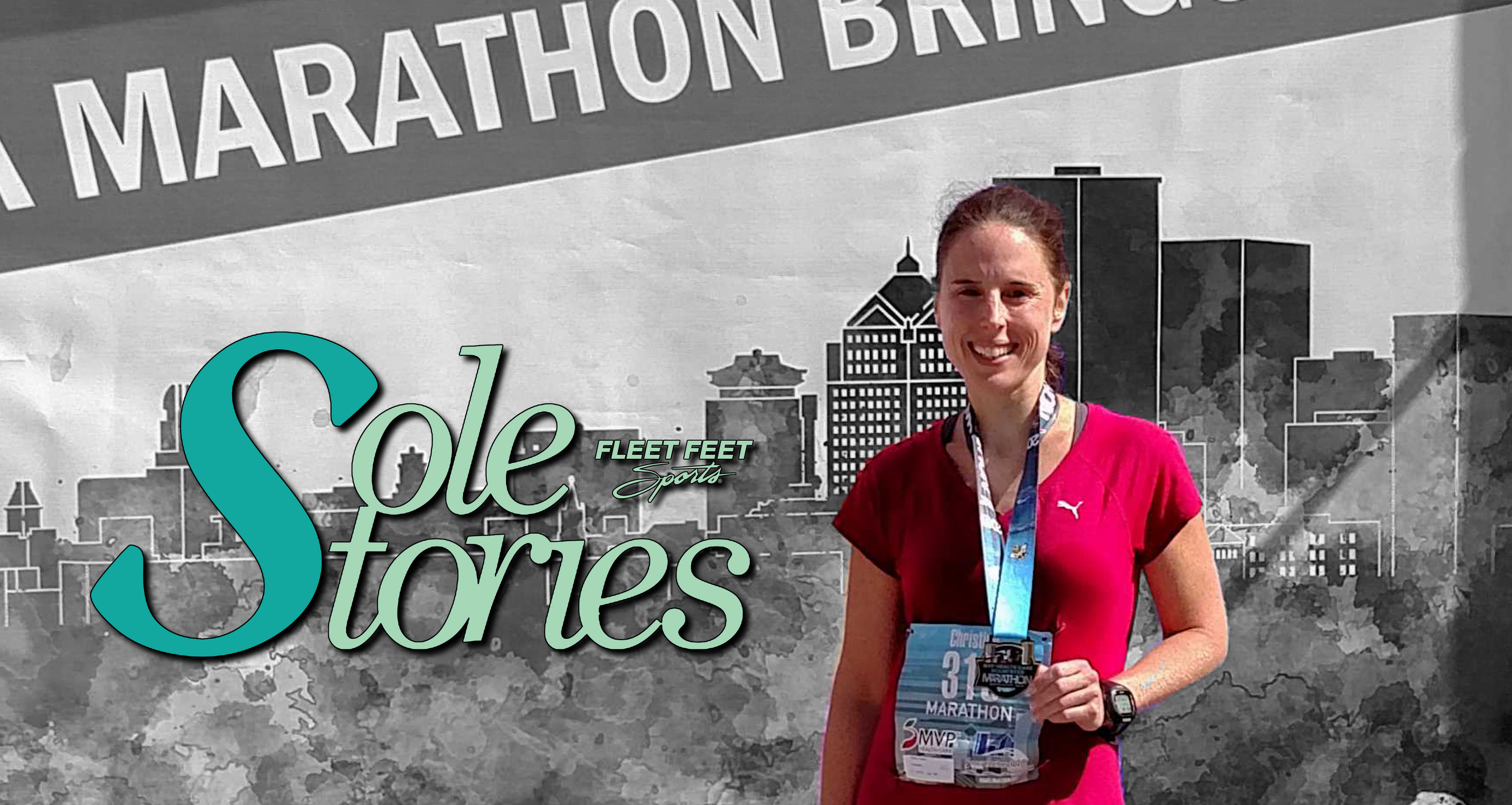 I started running only for its efficiency. I was a mom with a baby and a toddler, and in those foggy, sleep-deprived days, I would strap the kids into the double jogger and head out to the canal path.
I remember clearly the day that I ran five miles consecutively for the first time. Leaving the kids at home with their dad and seemingly weightless without the strain of pushing the jogging stroller, I felt like I was flying. I began to run with increased enthusiasm, particularly on those tantrum filled days. I joked with my husband that although I was clearly running away, I would always return home.
I ran my first half marathon that September. Crossing the finish line, I said, "I am never doing that again!" 6 half-marathons later, I decided to train for my first full marathon. (Funny how that happens, isn't it?) After sitting dumbfounded, staring at three Internet produced marathon training plans that seemed completely different, I decided to sign up for Fleet Feet Beginner Marathon Training.
When I walked in the door to Fleet Feet for that first session, I felt like I was home. I was surrounded by like-minded people who were there to better themselves and encourage each other. I got to know many individuals in my pace group.  While different in age, career, and life experience, our love of running transcended all of that.  Our pace leaders provided us with excellent advice, and we encouraged each other throughout the miles.  Without the stress of analyzing various training plans and mapping my own long-run routes, I was able to simply enjoy running.
When the day finally came for the Rochester Marathon, I knew I was ready. I was welcomed at the starting line by a sea of friendly faces. I knew for sure I had the right gear, I'd prepared to the best of my ability, and I had a race plan that I had developed with the help of countless experts along the way.
There just aren't words to explain what an incredible experience I had. I don't know whether I could have gotten to the finish line without the help of Fleet Feet, but I absolutely know for sure I never would have had such a wonderful experience if it weren't for their guidance. 
Life is busy for all of us. The strains of work and family can be overwhelming.  Even so, the lessons that my children have learned by watching their mom persevere are priceless. The confidence and enthusiasm I gain from accomplishing running goals make me a better person in all areas of my life.
If you are considering signing up for a Fleet Feet training program, I enthusiastically encourage you to take the risk.  You will be welcomed with open arms regardless of your level of experience or current pace. Please come and be a part of this amazing running community.  I hope to see you on the road and at that finish line!
-Christine Scoppa