Ode to Our Officers
Dear Chief Ciminelli & Mayor Warren,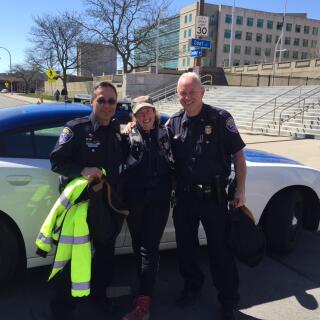 On behalf of YellowJacket Racing, Fleet Feet Sports and all the runners and walkers who have traversed the City of Rochester streets since we started producing races here, we wanted to make sure you know the appreciation we have for the work, time, effort of the Rochester Police Department (RPD). We personally want to express gratitude to the two men who we have worked with for years, who have been at the helm of providing police event support not only for our races but all cultural, art, food, music, sporting events and the like that take place on our city streets and parks.  This would be Lt. John Prewasnicak and Officer John Kompanijec. Sunday, April 22 we hosted the 9th running of the Rochester Regional Health Flower City Challenge with a Saturday event being in a city park at Genesee Waterways Center and Sunday at Blue Cross Arena downtown, events that host about 4000 athletes and another many thousand spectators and volunteers along a large part of the City of Rochester.
We know both Lt. John Prewasnicak and Officer John Kompanijec are retiring from many years of service to the RPD and this was their final Flower City Challenge.  Like many, we affectionately called them Pre and Komp and we considered them part of our team to produce our events that are held in the city.  We are well aware that our events require the most officers of any local event, approaching 100 in a short time period, to ensure the safety of the athletes and motorists during, before and after the race.  We understand this is not an easy task to orchestrate so many officers, secure equipment such as barricades and barrels, provide safety protocols on course all while working on the multitude of other events requiring RPD resources throughout the year.  While not under your jurisdiction, we can't forgo how they've helped be a liaison between other municipalities & departments such as Brighton Police and Monroe County Sheriffs who also are integral in providing coverage for day 1 of Flower City.
The work and service provided to YellowJacket Racing & Fleet Feet Sports events in order to help us produce the best possible events for our city never went unnoticed.  They understood our desire for perfection, timeliness, efficiency and our desire to bring participatory running/walking events to our city to the level of other larger cities.  They knew we believed in all things Rochester and creating a community of wellness and sporting experiences for those within and outside our community to partake.  They were always available for consult, meetings, questions and even last minute adjustments.  This event was one of the first running races in the nation after the Boston bombings, whereby safety protocols had to be swiftly created in 5 days time to ensure safety for all and these protocols are still used today.  These two did this.  The "barricade" situation which we now joke about, they quickly responded to my 4AM call that morning to ensure every road was safely protected so we could start on time.  These two did this.  When we told them about our outlandish new course for the September Rochester Marathon to incorporate the northern part of the city, they provided their typical smirk and let us go for it.  These two did this. 
There is so much more, but the point is, as a running and walking community we hope you recognize the gratitude and value we have for the services of the Rochester Police Department and these two men, who help create safe environments not only for our participants but for all attendees of city events.  We wanted to make sure that as they end their tenure servicing Rochester that you and their peers know how much the work done by the force, Pre and Komp is pretty remarkable.
Pre and Komp – Thank you so very very much for everything you did to help us.  Perhaps next year we will see you both toe the line. 
From all of us runners and walkers to you, Best wishes and congratulations on many years of a job well done.  Cheers!
Regards, Boots and Ellen
Co-Owners Fleet Feet Sports & YellowJacket Racing