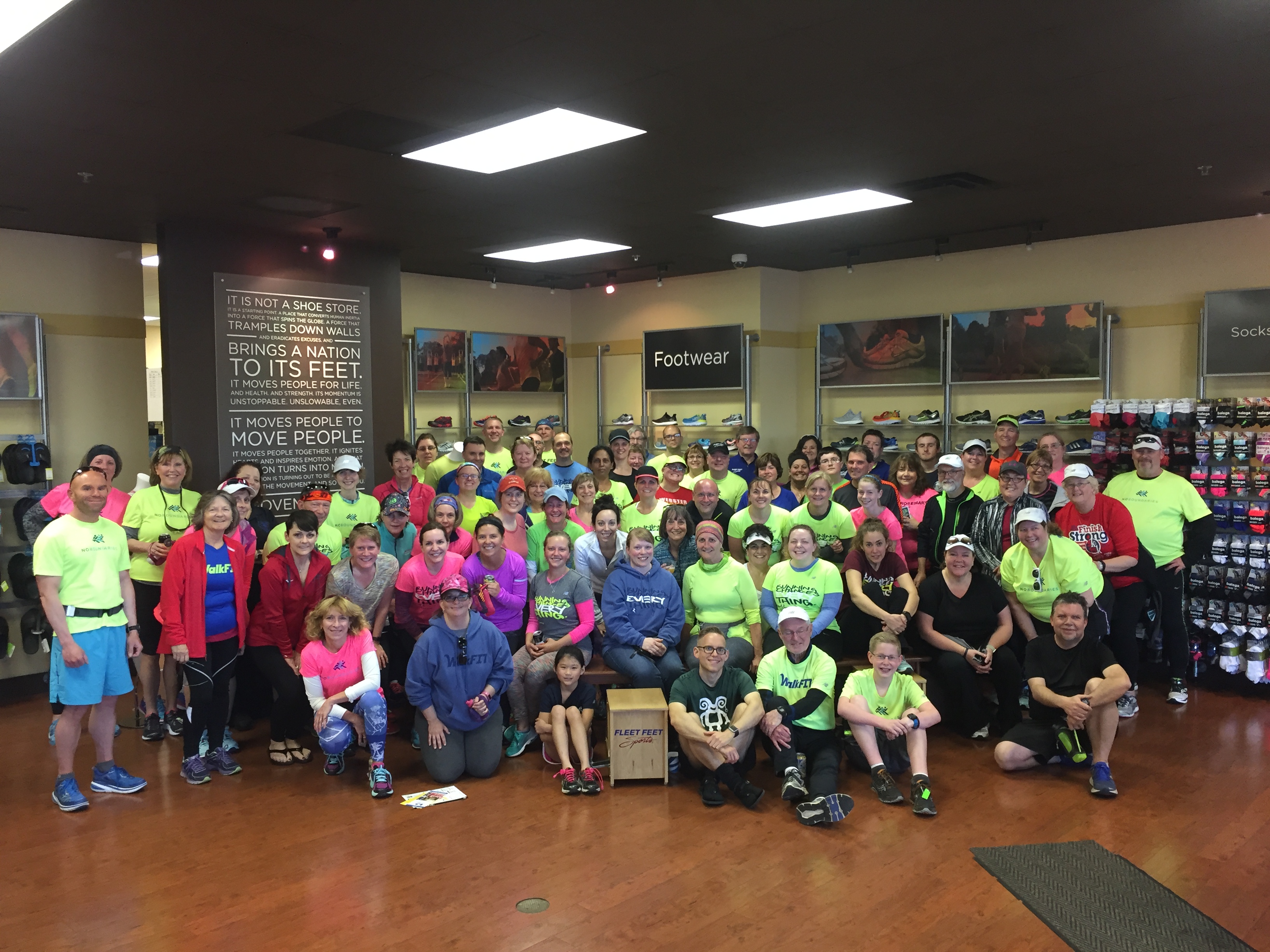 Last week we had the honor of celebrating our No Boundaries: Learn to Run and WalkFIT program participants.  Their actual graduation race was the Wegmans Family 5k in the torrential rain.
In February, half of this group had never run or walked a 5K before.  Some had run or fitness walked in their past, but life simply got in the way and they stopped.  So enter into Fleet Feet Sports No Boundaries and/or WalkFIT programs they did.  Those first few weeks are filled with nerves, low self esteem, lack of confidence, you name it.  But this is where the coaches and mentors come in.  These coaches and mentors are their confidence before the participant realizes they already have the confidence, the strength and power to meet their goals.
Enter March.  OK, nobody in our region expected a hurricane force windstorm to take out our city and render helpless many roadways, schools, businesses etc….. Then like the lion March can be, the following week a one two punch of a 2 feet plus snow storm dumped on an already benumbed city.  This certainly caused these mighty participants to take pause and question what in the world did they choose to do, by joining this in winter.  Workouts were cancelled.  Workout locations changed.  Definitely difficult circumstances, but safety in training above anything else.
The lamb then approaches in April.  While the weather wasn't stupendous, this hardy group of trainees persevered week in/week out knowing graduation race was near and they had a goal.  The coaches and mentors worked even harder to keep the motivation going after what March wrought.  Race day came and it was go time.  Perhaps the torrents weren't as bad as dodging windstorms and snowstorms that the training brought on because this group did it!  They crossed that finish line soggy, drenched but with big smiles.
At the graduation ceremony we add a unique pomp and circumstance.  Mainly because I was in the girl scouts and a sorority and found some of those rituals fun.  We eat cake, drink champagne and recognize each participant one by one.  We celebrated what they have done since February and what they are now.  They are runners now.  They are fitter walkers now.  They are ready to advance to the next program whichever that may be 2.0, advanced walkFIT, 3.0, Half Marathon WalkFIT or even Beginner/Advanced Half Marathon training.  They are ready.
But I think from an owner's eye what is so wonderful to see is that most everyone in that room whether they are a participant, coach or mentor came from WalkFIT or No Boundaries and have accomplished so very much.  It's even more thrilling to see that many finishers in races came from this very program.  A program meant to guide you, be your confidence before you know you already have confidence, a program simply meant to change lives.  And looking around that room, I can not deny, I have seen many lives changed from it year over year, season over season.
Congratulations to this incredibly enduring group of individuals.  No Boundaries and WalkFIT for the season may be over and begin again in June, but they can now know their confidence to accomplish what they want no matter what conditions.