Fleet Feet recognizes the importance of health and wellness for employers and communities alike. We know how important it can be for your employees to feel healthy and be healthy.
Give your employees the opportunity to get the correct equipment to help them live healthy lifestyles by scheduling a Workplace Fit.
Whether your colleagues and you work on your feet all day, are training for a local 5k race together or like to take walking meetings, our highly trained Outfitters can help you find the perfect pair of shoes, insoles and socks for your specific gait pattern and foot shape through our unique fit id® Outfitting Process with 3D Foot-Scanning Technology. Fleet Feet has worked with hundreds of corporate wellness programs and thousands of employees find their perfect shoes.
So whatever your company's health and wellness initiatives are, we can help you find the right gear to help you move and live your best.
Our specialized fit id® outfitting process combines outstanding customer service with insightful technology to deliver unbeatable comfort to your employees.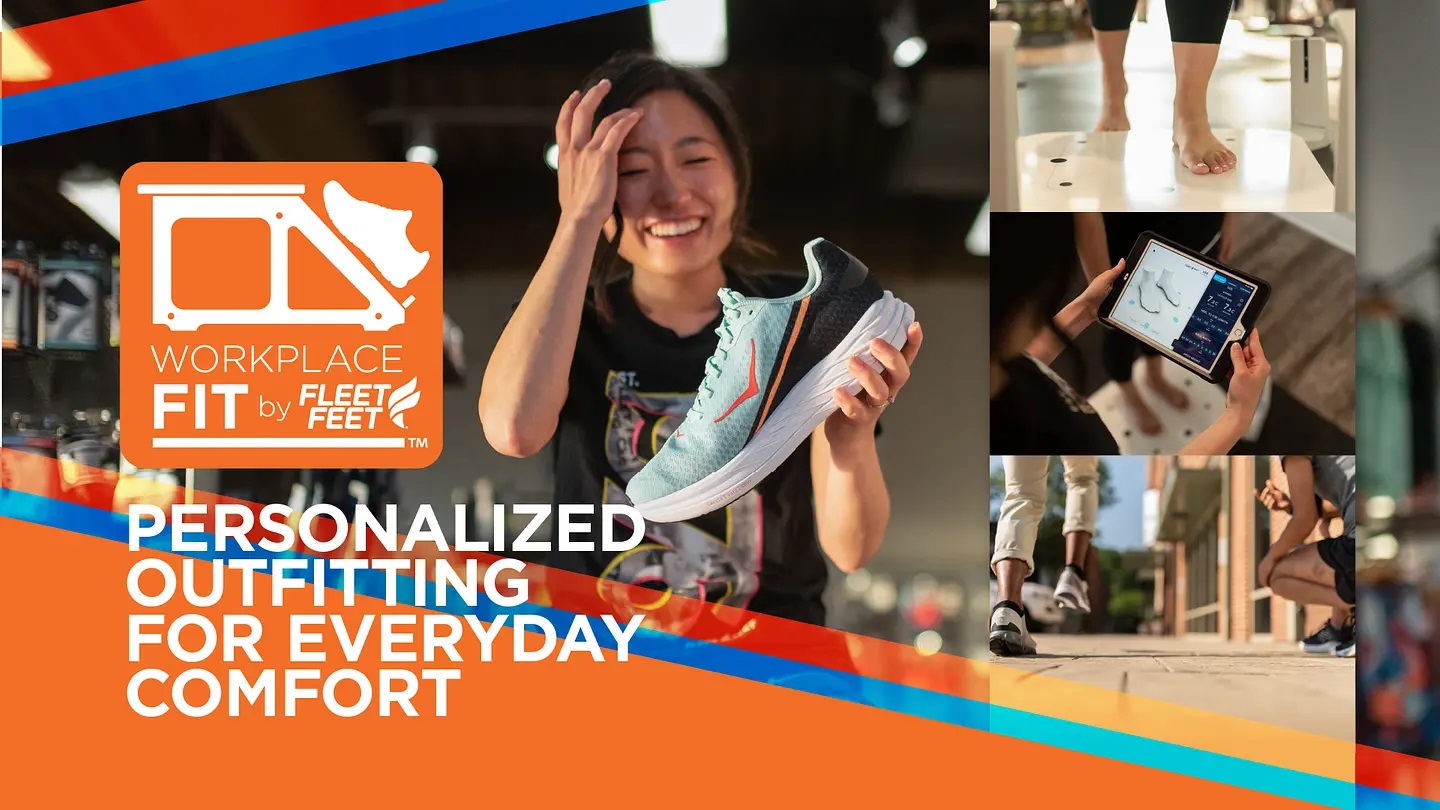 Expert Advice
Personalized one-on-one experience with a professionally trained outfitter.
3D Foot Scanning
Measures arch height, length, width and more to help find the perfect fit.
Head-to-Toe Solutions
Running shoes, socks, insoles and more—all backed with our Happy Fit Guarantee*
We coordinate a date range that works for you and your employees (we typically recommend a month).
Fleet Feet will provide supporting materials in advance that you can share with your employees to make sure they know what to expect.
Our team of expert outfitters works one-on-one with your employees to discover their needs and find great shoes and inserts for walking, running or jobs that require a lot of standing.
Your employees give us their name to check-off on the list and walk out of the store with a new pair of shoes!
Our goal is to make this fast, friendly and efficient for you and your employees!
Ready to learn more about Workplace FIT? Fill out the form below and we'll be back in touch as soon as we can!