WINTER WARRIORS
Start Date: Saturday, December 7, 2019
End Date: Saturday, January 11, 2020
Cost: $50
Training Length: 6 weeks
Registration:

CLOSED
Winter Warriors is a 6-week series for runners, walkers and interval runners sponsored by Feetures. We meet every Saturday morning at 8am at various parks around the City of Roanoke to run and walk on the Greenway. Weekly routes will include 3 and 5 mile options. All participants get an awesome Fleet Feet x Feetures Winter Warriors super soft hoodie and a pair of Feetures socks (valued at over $50!). This is a great way to meet some new running/walking friends and get in your miles during the Winter.
SCHEDULE:
12/7 Wasena Park
12/14 Washington Park
12/21 Fallon Park
12/28 Garden City
1/4 Washington Park
1/11 Wasena Park
DROP-INS ARE WELCOME! Drop-ins are $10 cash at each workout. Drop ins will not receive a hoodie and socks. You are not required to come to all 6 weeks to receive your hoodie and socks if you register for Winter Warriors.
JOIN THE CLUB! Sign up for the Fleet Feet Running Club and get 20% OFF any and all training programs in 2019 among many other perks. Membership cost is only $15 for the remainder of 2019.
WINTER WARRIORS CHALLENGE PERKS:
Friends to run and walk with and encourage you at every Saturday morning

Fleet Feet x Feetures Winter Warriors super soft hoodie to rep during the cold winter
Feetures socks

Weekly newsletters with weekly group workout location, winter running tips and resources, notes from the coach, upcoming events and more

Private Facebook group where you can ask questions and share the pains & gains of winter running/walking with other Winter Warriors participants

MOST IMPORTANTLY

being in a group where you will be known by name and treated like family

A SERIOUSLY GOOD TIME! Lots of sweat, new friends, and FUN

Total perks = Priceless

Total swag = valued over $50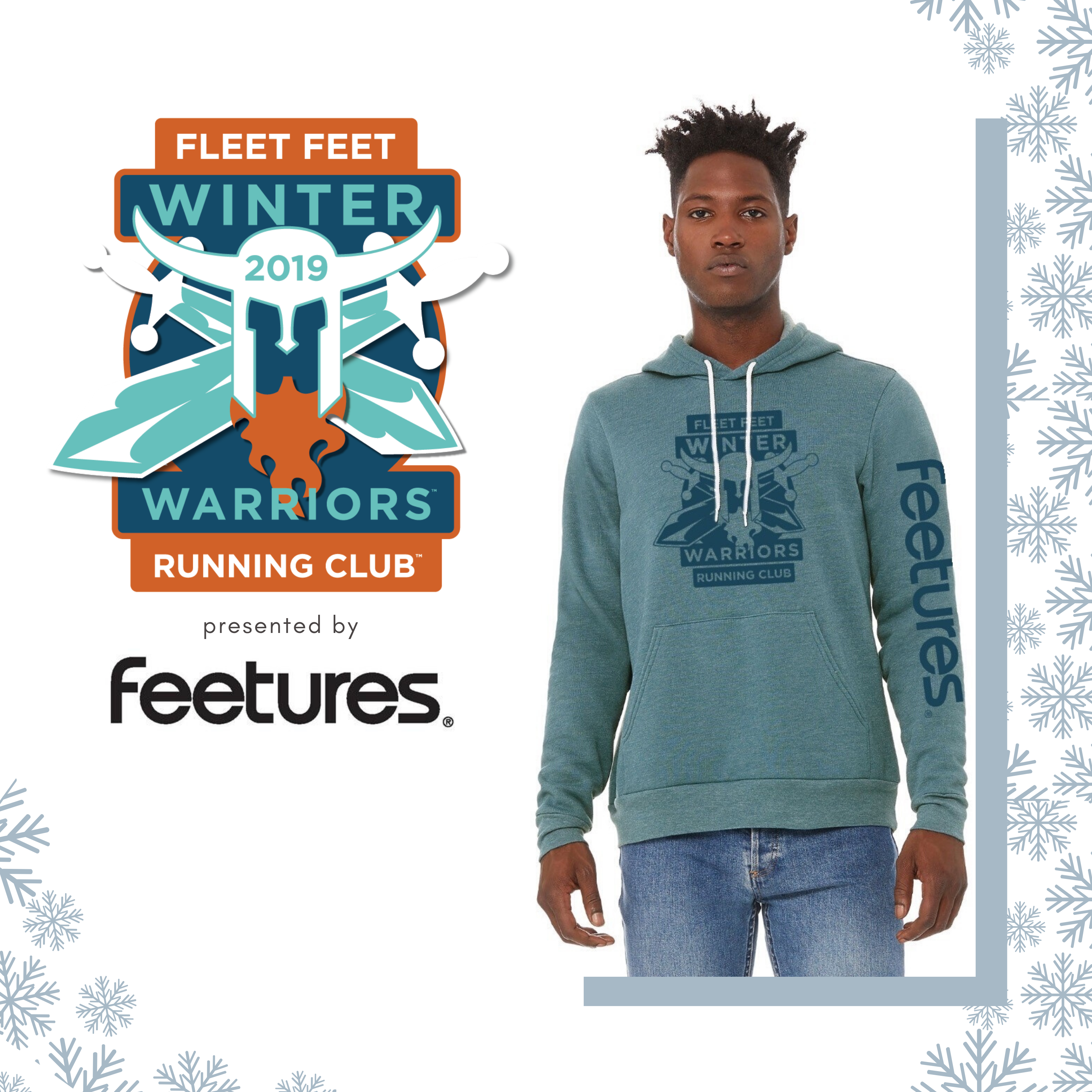 WEEKLY GROUP WORKOUTS
Weekly Winter Warriors workouts take place on Saturday mornings at 8am. Locations will change weekly, Coach Leslie will be in touch with location details once you've registered. Routes will primarily take place on the Roanoke Valley Greenways, with a 3 and 5 mile option at each workout. Water will be provided at all workouts. Please bring your own water bottle.
RULES & REQUIREMENTS
Participants must be 18 years or older to participate. Due to safety reasons, strollers, animals and headphones are not allowed at workouts. Participants must carry emergency contact information with them at all times. Participants must follow Greenway etiquette and be respectful of other pedestrians on the Greenway. All participants are REQUIRED to carry hydration with them and have identification with emergency contact info on them at all workouts. These workouts are open to all paces!
HUGE THANK YOU TO OUR SPONSOR FEETURES!
Questions? Reach out to leslie@fleetfeetroanoke.com