On busy mornings, the first thing to neglect shouldn't be breakfast. With these quick and healthy choices you won't think twice about skipping the most important meal of the day.
To start our list of on-the-go options we chose a hearty breakfast bread. This recipe takes a bit of time to prepare so we recommend making it on the weekend to have on hand during busy weekday mornings. It is packed with ingredients that will keep you from counting down the hours until lunch. Bonus: The recipe makes two loafs—enjoy one and freeze the other to bring out for the next busy week.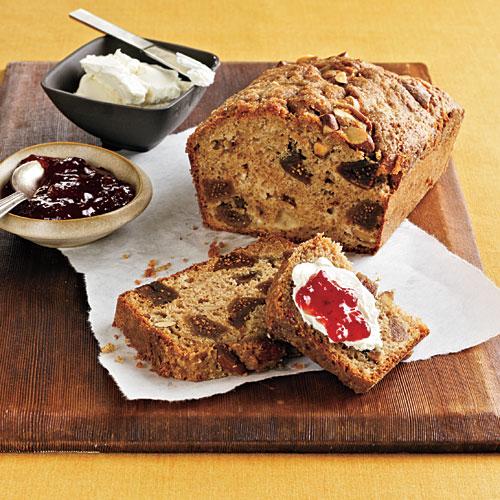 Ingredients
STREUSEL:
2 1/2 tablespoons brown sugar
2 tablespoons all-purpose flour
1 1/2 tablespoons coarsely chopped almonds
1 tablespoon chilled butter, cut into small pieces
1/8 teaspoon ground cinnamon
BREAD:
1 cup dried figs
1/2 cup boiling water
Cooking spray
1 tablespoon all-purpose flour
2 large egg whites
1 large egg
3/4 cup applesauce
1/3 cup plain fat-free yogurt
1/4 cup canola oil
1/2 teaspoon almond extract
3/4 cup granulated sugar
6.75 ounces all-purpose flour (about 1 1/2 cups)
2.5 ounces whole-wheat flour (about 1/2 cup)
1/3 cup chopped almonds, toasted
1 teaspoon baking powder
1 teaspoon ground cinnamon
1/2 teaspoon salt
1/2 teaspoon baking soda
Directions
1. Preheat oven to 350°.
2. To prepare streusel, combine first 5 ingredients in a small bowl, stirring with a fork until crumbly; set aside.
3. To prepare bread, combine figs and 1/2 cup boiling water in a small bowl; let stand 30 minutes. Coat 2 (8-inch) loaf pans with cooking spray; dust with 1 tablespoon flour.
4. Place egg whites and egg in a medium bowl; stir well with a whisk. Add applesauce, yogurt, oil, and almond extract; stir well. Add sugar; stir well.
5. Weigh or lightly spoon 6.75 ounces all-purpose flour and 2.5 ounces whole-wheat flour into dry measuring cups; level with a knife. Combine flours and remaining ingredients in a large bowl, stirring with a whisk. Drain figs, and coarsely chop. Add figs and applesauce mixture to flour mixture, stirring until just combined. Divide batter between prepared pans. Sprinkle streusel over batter. Bake at 350° for 55 minutes or until a wooden pick inserted in center comes out clean. Cool in pans for 15 minutes on a wire rack; remove from pans. Cool completely on wire rack.