Avocado Breakfast Pizzas
By SkinnyMs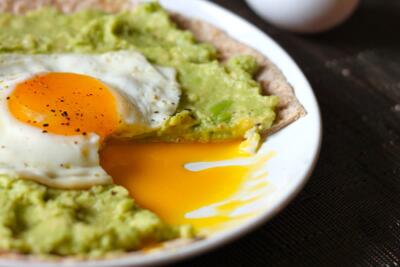 What could be better than pizza for breakfast? How about a breakfast pizza loaded with protein, fiber, and tons of flavor? With less than 5 ingredients, this healthy pizza recipe is perfect for busy mornings. Avocado Breakfast Pizza is simply a tortilla topped with avocados and a fried egg. Let the yolk of the fried egg burst open onto your pizza and dip each slice into the yolk. The rich flavor of the egg is complemented perfectly by the cool, fresh taste of avocado. Yum!
INGREDIENTS
2 whole grain tortillas (6 inch diameter)
2 eggs
2 tsp olive oil
1 avocado, peeled and seeded
1 tsp lemon juice
salt and pepper, to taste
DIRECTIONS
First, warm tortillas in the microwave for approximately 30 seconds. Set aside.
In a small bowl, combine the avocado and lemon juice. Mix well until the mixture has a smooth consistency. Season with salt and pepper to taste.
Spread avocado mixture in an even layer on both tortillas. Set aside.
Heat a skillet greased with the olive oil at medium heat until just hot enough to sizzle a drop of water.
Yields: 2 Breakfast Pizzas | Serving Size: 1 Breakfast Pizza | Calories: 299 | Total Fat: 24 g | Saturated Fat: 4 g | Trans Fat: 0 g | Cholesterol: 186 mg | Sodium: 84 mg | Carbohydrates: 14 g | Dietary Fiber: 7 g | Sugars: 1 g | Protein: 9 g | SmartPoints: 9 |