Passing the torch is deeply symbolic in the world of sports. We see this literally play out in the opening and closing ceremonies of the Olympics. One city passes the flame to another with the responsibility of keeping the flame burning until it's time to hand it to the next recipient.
Robin and Blaine Lewis lit the torch of Fleet Feet Roanoke and have been grateful to help change the face of our community for the past 20 years. Soon, they will pass the torch to Matt Thompson and continue the evolution of Fleet Feet Roanoke.
Change is Good: The Beginning of Fleet Feet Roanoke
Robin and Blaine are an example of positive change; they changed careers and the Fleet Feet Roanoke community was born.
In 1999, Blaine and Robin needed after-school care for their children. To put his family first, Blaine left his 16-year career in adult probation and parole to work part-time with Fleet Feet in Carrboro, NC and be with his daughters after school.
They were impressed with Fleet Feet's culture and affecting positive change by helping people live a healthy and active lifestyle and decided to go all in.
In 2003, Robin left her 18-year career in banking as they chose Robin's hometown of Roanoke to open a Fleet Feet franchise. They had been near Blaine's parents and family in NC and chose Roanoke to be near Robin's parents and family, once again, putting family first.
Be the Change: Making Positive Impact in Roanoke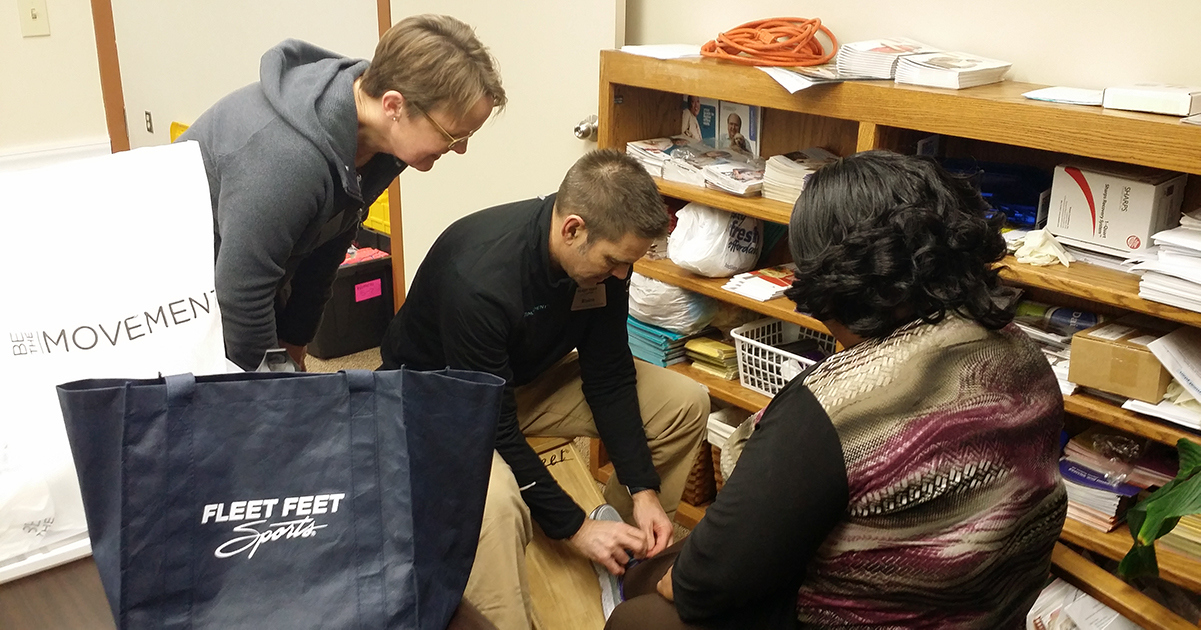 It was at Fleet Feet Roanoke that Robin and Blaine's commitment to service found a natural outlet. Over the years, they oversaw and supported the growth of Roanoke's running culture.
Fleet Feet Roanoke has been helping people change through training programs for about 15 years from No Boundaries (5K) up to marathon distance.
Fleet Feet Roanoke has a significant role in several big local races, including the Blue Ridge Marathon, Four on the 4th, The Big Run, and Knights Crossing Cross Country Invitational.
Robin and Blaine couldn't have done it without the amazing team around them. They want to thank ALL the employees over 20 years who have made a big impact on the running community in Roanoke and changing lives two feet at a time.
How to Be the Change: Giving Back to Roanoke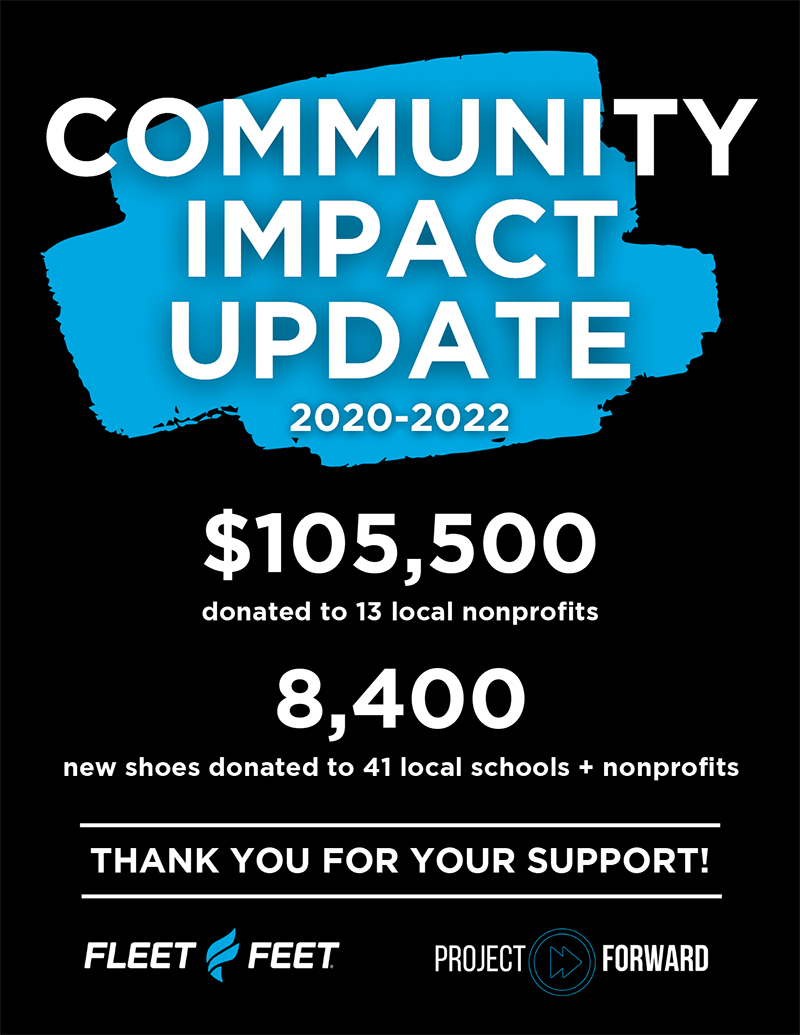 Robin and Blaine's vision for Fleet Feet Roanoke was to be a vehicle for impact beyond the running community. The goal has been integral to the work they've done for the past 20 years.
They started Project Forward, a 501c(3) nonprofit, in 2015 to raise money to meet community needs.
Since COVID, Fleet Feet Roanoke, Project Forward, and the running community have raised and donated $105,500 to 13 local nonprofits and donated 8,400 pairs of new shoes to 41 local schools and nonprofits.
Accept the Change: Passing the Torch to the Next Leader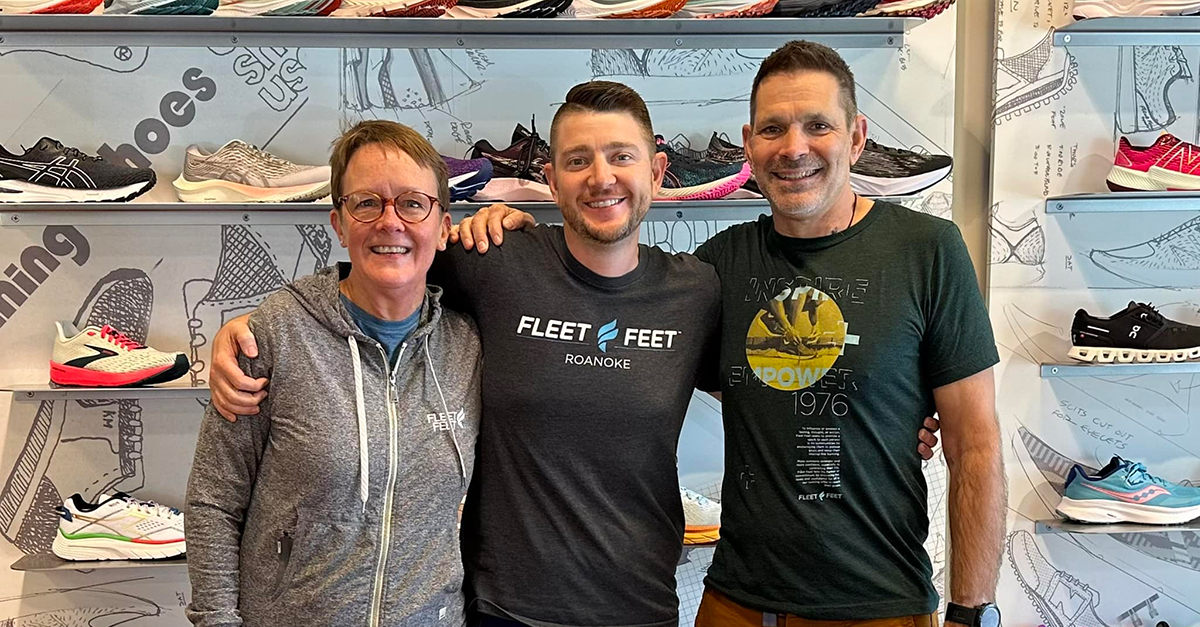 After 20 years of service, Robin and Blaine started thinking about retirement and a succession plan. They wanted a solid roadmap in place to ensure that the next generation of leadership kept Fleet Feet's spirit of service and passion alive. Little could they have known that out of a tragedy, the next phase of change would begin.
Matt and Tabitha Thompson were long-time customers of Fleet Feet with a shared passion for running, triathlons, and fitness.
Tabitha was involved in a tragic bicycle accident where she was killed by a driver in February 2022. One of the family's requests was to donate to the Carilion Clinic Foundation in dedication to the NICU where Tabitha was a passionate nurse practitioner. Blaine, Robin, and Fleet Feet Roanoke created #Miles4Tab Virtual Run/Walk Fundraiser, and in two weeks, they raised $25,500 for the NICU with 644 participants.
Matt was truly moved by the #Miles4Tab fundraiser and poured himself more deeply into the Fleet Feet Roanoke community. After a few months, it became clear that this had created a new WHY for Matt. It also became clear to Robin and Blaine that Matt was the perfect person to carry the torch of Fleet Feet Roanoke.
Not only does Matt have long-term experience in marketing and business development, he is a CPA and has an MBA from Duke University. More importantly, Matt's passion is even more fueled by running, triathlons, fitness, and its power for community impact and being able to help everyone get active and reach their goals.
Matt joined Fleet Feet Roanoke as General Manager in May 2022 with the intent of eventually purchasing Fleet Feet Roanoke from Blaine and Robin.
Robin and Blaine Lewis are living proof that running changes everything. Fleet Feet has changed and enriched their lives for two decades. As they prepare to pass the torch of Fleet Feet Roanoke to Matt Thompson, we want to honor their work in lighting and keeping the flame of Feet Fleet Roanoke and follow their example in embracing values-based change.