INTRODUCING NORMATEC RECOVERY
NormaTec is the leader in rapid recovery— their systems give a competitive edge to the world's elite athletes, coaches, and trainers. The goal is to establish recovery as an integral part of every athlete's training, and we feel NormaTec systems are the best way to accomplish that. The NormaTec PULSE Recovery Systems are dynamic compression devices designed for recovery and rehab. All of their systems use NormaTec's patented PULSE technology to help athletes recover faster between trainings and after performance.
The patented and proven NormaTec Recovery system uses compressed air to massage your legs, mobilize fluid, and speed recovery. Each session involves a pre-inflate cycle, during which the connected attachments are molded to your exact body shape. The treatment cycle then begins by compressing your feet and legs in a pulsing fashion, starting with your feet and moving up your legs, massaging the muscles and mobilizing fluid. Following hard workouts, the result is often both reduced soreness and a shorter recovery time before your legs are ready for another hard effort.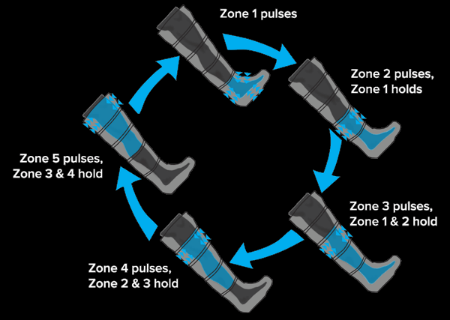 $20 FOR 25 MINUTES OF MAXIMUM RECOVERY!
NormaTec Recovery is NOW AVAILABLE at Fleet Feet Roanoke so you can book massage appointments! Recover like a pro and book your appointment today by filling out the form below or calling 540-777-1166. We offer 25 min. appointments for $20. You will pay before or after your appointment. Appointments are scheduled in 30 minute slots back-to-back starting on the hour and half hour.
PLEASE NOTE BEFORE YOU BOOK:
Until you speak to a Fleet Feet staff member or receive a phone call from us (or email), your appointment is not confirmed. If you do not hear from us right away, we are busy helping customers in the store and will confirm your appointment as soon as possible.
Our schedule for appointments is listed below. We only offer appointments in these 30 minute increments.
NormaTec appointments are booked in 30 minute increments back-to-back. If you are late for your appointment and we have another appointment scheduled right after yours, you will not receive the full 25 minutes. You will be able to recover for the amount of time left in your appointment slot.
If you would like to reschedule your appointment, please call 540-777-1166, or email ffrnormatec@gmail.com.
If you would like to book multiple appointments, please fill out the form below multiple times or call 540-777-1166.
WHEN TO NOT USE NORMATEC:
Don't use NORMATEC if you are experiencing inflammation, an infection, pain of unknown origin, bleeding (internal or external) at or near the site of application, or if you have a wound at or near the site of application.
Do not use NORMATEC if you are under the care of a physician or have a contraindication requiring the use of any medical devise.
Do not use NORMATEC on sensitive skin.
Do not use NORMATEC if you have any of the following conditions:

Acute pulmonary edema
Acute thrombophlebitis
Acute congestive cardiac failure
Acute infections
Deep vein thrombosis (DVT)
Episodes of pulmonary embolism
Wounds, lesions or tumors at or near the site of application
Where increased venous and lymphatic return is undesirable
Bone fractures or dislocations at or near the site of application