Mini Milers is cancelled for the remainder of 2021.
_____________________________________________________________________
Fleet Feet Kids Mini Milers Series
Start Date: TBD
Cost: $25
Registration: CLOSED
Dates: TBD
2020 Sessions:
Summer - starts in July
Fall - starts in September
The 6-week Fleet Feet Kids Mini Milers Series is a great way to introduce the sport of Track & Field to children between the ages of 6 and 11 years old, in a fun and low-key atmosphere. It is designed to expose young runners to all facets of the sport with non-intimidating activities and exercises. We want kids to fall in love with the sport while exposing them to the fun of movement and the beauty of their own athletic bodies. Kids will learn all the track basics, differences between sprinting and long distance, what type of track events there are, and learn which events they prefer. Overall, the main purpose of this program is to show kids how to enjoy running, racing, and competing.
MINI MILERS SERIES PERKS:
Fleet Feet Mini Milers T-Shirt for all participants
Volunteer coaches to motivate and make sure the kids are safe and having fun
Finishers medals at each of the Mini Milers track meets
Fun games to get to know each other and warm up to running
TONS OF FUN! Mini Milers participants will walk away with new friends and a new found love for running
WHO IS THE MINI MILERS SERIES FOR?
Children ages 6 to 11! The Kids Mini Milers Series is about learning to run and having fun. The kids will learn how fun running can be while working on getting faster. Fleet Feet has over 10 years of experience in offering organized and coached training programs, plus we have hosted multiple kids running programs. Your kids will be in good hands!
WHEN AND WHERE DO MINI MILERS WORKOUTS TAKE PLACE?
Kids Mini Milers track workouts and meets take place at Patrick Henry High School's Track at 5:30PM on Mondays.
Patrick Henry High School is located at 2102 Grandin Rd. SW, Roanoke, VA 24015. The PH Track is located past the high school, off of Lofton Rd. Parking is available off of Lofton Rd. near the PH Baseball Fields, or on Blenheim Rd. The PH Track is a short walk from both parking locations. We will meet at the PH Track.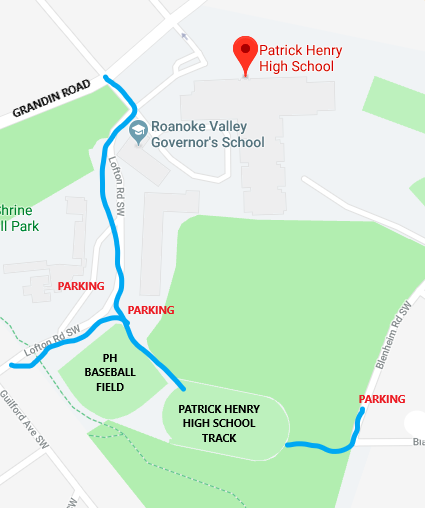 ANY RULES?
Your kids safety is our number one priority. With your kids safety in mind, we have created the below rules and requirements by which all Kids Mini Milers participants and their parents/guardians must abide.
All Kids Mini Milers participants must have a parent/guardian with them at all workouts.
All Kids Mini Milers participants must have identification with emergency contact information on them at all workouts.
Earphones are NOT allowed at workouts.
Participants must have a hydration system with them during all workouts.
All children under the age of 18 must be accompanied by a parent/guardian.
No strollers at workouts.
No animals at workouts.
DO THE MINI MILERS DO ANY RACES?
There will be two Mini Milers Track Meets throughout the season. The meets will take place the 3rd and 6th week of workouts. Races are free to Mini Milers participants. Kids wishing to participate in the track meet(s) who are not in the Mini Milers Series will have to pay a $5 (cash) fee.
WHAT DOES THE COST OF MINI MILERS GO TOWARDS?
The cost of the Kids Mini Milers Series is $25 for 8 weeks of group workouts. A majority of the proceeds will be donated to the Patrick Henry High School Track & Field program. The remainder of the registration fees goes towards coaching staff, equipment, and insurance.
Questions? Contact Coach Jeremy!