Guy Fieri Rips Up His Shoes for These Insoles
During college, I worked in the meat industry and began spending large amounts of time on my feet in harsh, cold environments. When you're standing on hard surfaces for so long and doing these repetitive motions day in day out, not having the right foot support will wear you out. I knew I had to do something for my feet, so I started using Dr. Scholl's inserts, but they just didn't give me the support I needed. My feet were still hurting at the end of each day. I even got to the point of having custom orthotics made — but those didn't really work either.
One day I was talking to a buddy of mine who's a podiatrist, and he said, "You've got nice cars. Do you put cheap tires on them? Try Superfeet."

I'm telling you — they've made all the difference. I'm not looking for a soft gel under my feet. What I need is the support in the heels and the insteps. The Superfeet are made of a high-density foam that form to your feet and, unlike other inserts, won't squeak in your shoes (which can be a problem on camera!). You figure out your arch height by Googling "wet-arch test" and from there you can determine whether you need green or blue or orange insoles. I rip the insoles out of all my shoes and use a different version of Superfeet in all of them — athletic shoes, boots, dress shoes. We're out promoting my new book Guy Fieri Family Food and about to start filming another season of Guy's Grocery Games and it's incredibly physical; the shoots are ten- to 12-hour days that involve standing and running around the store with the contestants. The fatigue I'd feel in my feet, knees and back without the Superfeet? It's night and day. And this isn't a paid advertisement!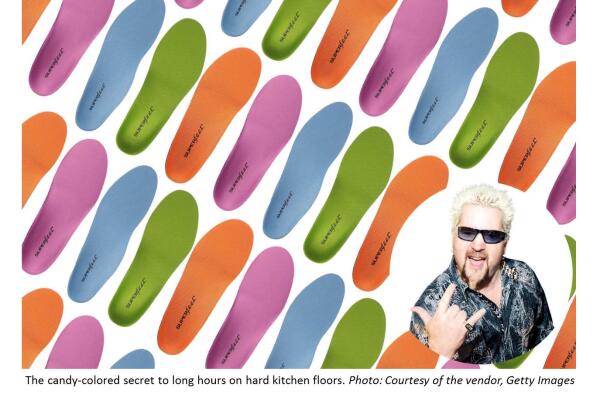 Superfeet Premium Insoles are available at Fleet Feet Sports! Swing by today and let our staff talk to you about the different products and help you find a Superfeet Insole that fits your needs!