Happy Tuesday, friends! In honor of this beautiful day, may we present one of the many delicious recipes from Skinnytaste.com: Grilled Mediterranean Chicken and Quinoa Salad. We think this is a delicious way to use some of those end-of-summer veggies you may be accumulating. Feast your eyes on this delicious (not to mention, healthy!) treat: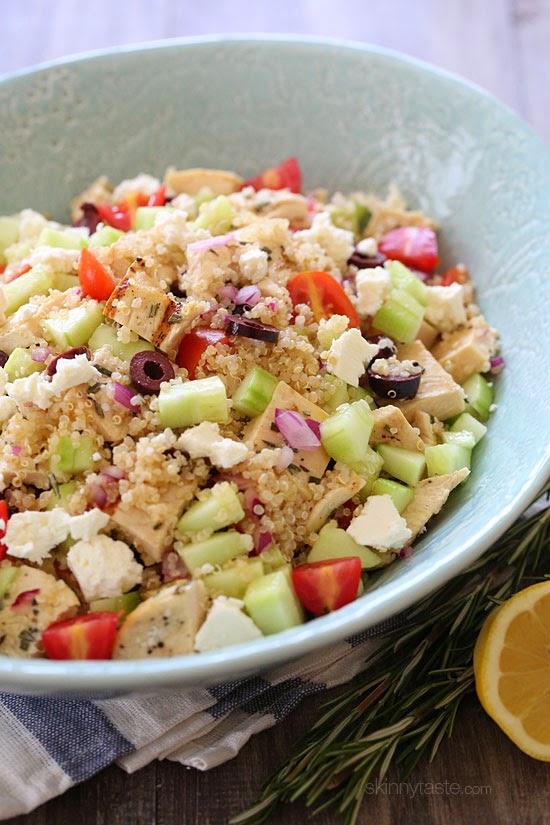 Grilled Mediterranean Chicken and Quinoa Salad
Skinnytaste.com
Servings: 6 • Size: 1 heaping cup • Old Pts: 4pts • Points+: 5 pts
Calories: 180 • Fat: 8 g • Carb: 8 g • Fiber: 1 g • Protein: 20 g • Sugar: 1 g
Sodium: 255 mg (without salt) • Cholesterol: 7 mg

Ingredients:


16 oz skinless thin sliced chicken cutlets
kosher salt and freshly ground black pepper
1 clove garlic, minced
1 tablespoons chopped fresh rosemary or oregano
juice of 1/2 lemon
1 teaspoon extra-virgin olive oil
1/2 cup uncooked quinoa
3/4 cup water
1/4 cup red onion, diced
juice of 1 lemon
1/4 cup kalamata olives, pitted and sliced
1 tbsp extra virgin olive oil
2 cups cucumber, peeled and diced (from 1 English)
1 cup cherry tomatoes, quartered
1/3 cup crumbled feta
kosher salt and fresh pepper, to taste
Directions:

Rinse quinoa for about 2 minutes, using your hands to make sure all the saponins are removed.

Fill a medium pot with water, add quinoa and salt to taste and bring to a boil. When the water boils, reduce heat to low and cover; simmer covered 15 minutes. Remove from heat and keep covered an additional 5 minutes without lifting the lid; then fluff with a fork and set aside in a large mixing bowl to cool.
Meanwhile, season chicken on both sides with salt and pepper, garlic and rosemary. Drizzle both sides with the lemon juice and 1 teaspoon olive oil and pat into the meat with your fingertips. Refrigerate 20 minutes while you prepare the grill.

Preheat the grill on high heat, clean the grates and oil them to prevent sticking (or use a grill pan indoors sprayed with oil).

Arrange the chicken on the grill and cook until cooked and firm, 1 to 2 minutes per side. Transfer the chicken to a cutting board, then slice into 1-inch pieces.

While the quinoa cools, dice all the vegetables. To the large work bowl with the cooled quinoa, add the red onion, olives, cucumber and tomatoes to the cooled quinoa, and squeeze the lemon over it.

Drizzle the remaining tablespoon olive oil over the quinoa, then add grilled chicken, feta, salt and pepper to taste and toss well. Taste for salt and adjust as needed, add more lemon juice if needed.

Makes over 6 3/4 cups.
For more details and images, click here. This recipe is from Skinnytaste.com.