Looking for a delicious, quick, and easy summer recipe? Then you're definitely going to want to check out this recipe for fish tacos with a summer salsa courtesy of Rachel Ray Magazine:
Fish Tacos with Summer Salsa: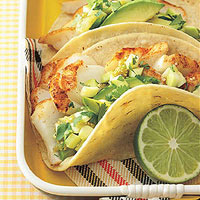 Use Hass avocados, which are richer and more flavorful than their larger, lighter green cousins.
Makes: 4 servings
Prep: 30 mins
Cook: 8 mins
Ingredients
8 6 inches

 

corn tortillas
2 tablespoons

 

chili powder
1 tablespoon

 

extra-virgin olive oil
Directions
Preheat the 

oven

 to 225 degrees . Place the fish in a medium bowl and drizzle with half of the lime juice. Cover and refrigerate for 15 minutes.

Using your hands, squeeze the juice and flesh from the tomatillos, 1 at a time, into a medium bowl; discard the skins. Mash the tomatillos with a fork. Add the zucchini, the remaining lime juice, the cilantro and 2 teaspoons of the salt and toss.

Spread the tortillas on 2 baking sheets and warm in the oven for about 

10 minutes

.
In a small bowl, combine the 

chili powder

, cayenne pepper and 1/2 teaspoon of the salt. Remove the fish from the lime juice, pat dry and cover with the spice rub. Heat the olive oil in a large nonstick skillet over medium heat and cook the fish, about 4 minutes on each side. Break the fish into bite-size pieces and season to taste with salt. Arrange the fish in the tortillas with some of the salsa and avocado slices.
Spy Valley Sauvignon Blanc 2004 (New Zealand)
Make the salsa ahead of time and store in the fridge--it's even better the next day.