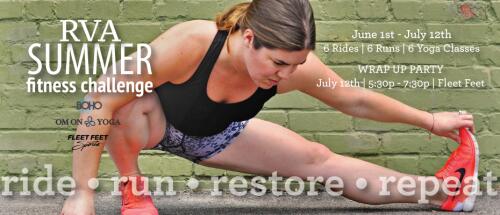 Summer Fit Challenge
If you haven't heard, we have some exciting news! 
We have partnered with BOHO Cycle Studio & Om On Yoga for 6 weeks of awesome. By combining forces, our three locally owned and operated fitness businesses are working to get you healthy, happy, & strong. So let's move! 
Here is the Challenge:
You have six weeks (Monday, June 1st - Sunday, July 12th) to complete 6 indoor cycling classes, 6 yoga classes, & 6 group runs. It is that simple! All participants must be registered by May 22nd.
View all the details here, on under our Store Events page.