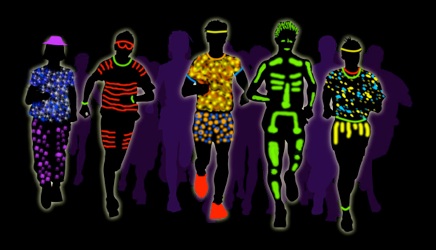 The changing seasons bring shorter daylight hours to get out and be active. This makes it even more vital that you wear reflective gear to allow yourself to be seen in the dark. We're celebrating reflectivity and visibility on October 21st with our Rave Run. We'll offer a three-mile route for runners and walkers. Make sure you mark your calendar for this event happening at 6pm. 
Fleet Feet will transform into your reflectivity headquarters on that evening. Nathan will be in the house with reflectivity and visibility gear for participants to demo, a Richmond police officer will talk about the importance of visibility, and we'll have post-run/walk food and drinks. Most importantly, everyone is encouraged to dress in their brightest and most visible gear because we'll be holding a contest to award prizes to the best outfits. You won't want to miss this!
What: Rave Run - Brightest outfit wins a prize!
When: Tuesday, October 21st at 6pm
Where: Fleet Feet (5600 Patterson Ave)
Who: You! Bring your friends, family, and even dogs
Why: To raise awareness for the importance of visibility in lowlight conditions.