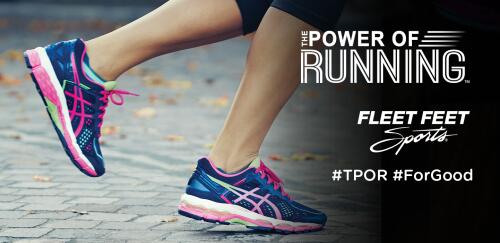 This week, our #TPOR vendor is ASICS.  Come in and get a new pair of Kayanos for yourself or a family member, and help support Kids Run RVA. 
 "Kids Run RVA promotes physical activity to youth across the Richmond region and encourages more kids to get moving more often. Between all of our programs and events, Kids Run RVA instills healthy habits that continue to flourish into adolescence and adulthood." 
Here's a bit about the shoes:
"True to its heritage, the new GEL-Kayano® 22 takes a bold step forward in unsurpassed performance and modern design. The sleek new FluidFit™ upper is built with Seamless Construction and a reengineered Heel Clutching System™
for a more secure and adaptive fit."
"The new GEL-Kayano® 21 is updated with nothing but the best in ASICS technical innovation, featuring the next generation of FluidRide.™
Mild to moderate overpronators will enjoy a more comfortably secure upper."

Here's what folks are saying about the Kayano:
"The shoe not only supports and increases your running or sporting
performance but also gives you comfort."
"They're sturdy, good looking, well designed and (here's the kicker)
lasted me well over 300 miles."
"The quality of the Kayano running shoe from Asics is apparent
as soon as you put it on."
#thepowerofrunningforgood