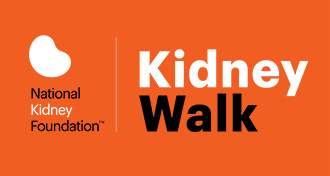 Make a difference in the lives of those with Chronic Kidney Disease (CKD), and join our National Kidney Foundation Walk Team!
Did you know...
Hypertension causes CKD and CKD causes hypertension.
Persistent proteinuria (protein in the urine) means CKD is present.
High risk groups include those with diabetes, hypertension and family history of kidney failure.
African Americans, Hispanics, Pacific Islanders, American Indians and Seniors are also at increased risk.
26 million American adults have CKD
Early detection can help prevent the progression of kidney disease to kidney failure.
This year, we will form a walking team for The National Kidney Foundation Walk to raise awareness and money to prevent and treat Chronic Kidney Disease. Whether you walk in memory of a loved one, donate to help raise funds, or participate in an effort to shed light on this debilitating disease, we would love to have you join the Fleet Feet Sports Team! Simply visit our team page by clicking here, and learn how you can make a difference.

As a team, our goal is to raise $300 for The National Kidney Foundation by 

October 25th

. Team members are not required to donate much; as little as $5 can make a difference. 
Saturday, October 4th

- Kidney Foundation Shopping Day - 

5% of our sales will be donated to The National Kidney Foundation.

 

Saturday, October 25th

- 

The National Kidney Foundation Walk