Sure, shoes are important, but socks are unsung heroes of the running world. Because they're the only thing between your feet and your shoes, it's important to know what to look for!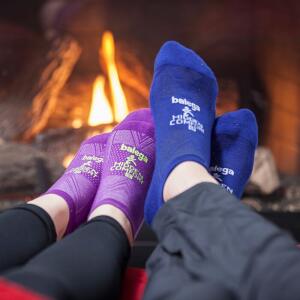 The wrong type of sock can be harmful to your feet. On a 5 mile run, your feet produce enough sweat to fill an 8 ounce glass! Materials like cotton trap moisture against your skin. Cotton fibers swell and lose their shape when wet, leading to blisters and often causing foot fungus or odor. Great quality socks are made with a blend of materials like Drynamix polyester, merino wool, nylon, Elastane, and Lycra. Fit-to-your-foot, sculpted construction and heel tabs prevent chafing while running. A high thread counts makes socks plush and comfy as well as durable, so they hold up during your run and in the wash.
We only carry the brands & styles we love to wear and are glad to answer any questions you may have!
Breathable, non-cotton socks are long lasting & provide the best fit & materials to make your feet happy!
We proudly stock US-based companies including Balega, Feetures and Darn Tough