Fleet Feet- Gazelles Youth Run Club

Registration now open!  

Jan-June for $200  
Click

HERE

to register.

  Or pay $45 a month and pay in-store only.
Let us help your children discover a love for running! 
Only one in three children are physically active every day.
Less than 5% of adults participate in 30 minutes of physical activity each day; only one in three adults receive the recommended amount of physical activity each week.
Fleet Feet Gazelles are here to buck the trend, and have a whole lot of fun along the way! The Fleet Feet Youth Running Club offers participants the opportunity to participate in regular physical activity and to learn about healthy lifestyle behaviors. We encourage parents to participate!
WHAT:  Fleet Feet Youth Run Club Sessions for Track Season- January through June.
WHO:  Boys and Girls of ALL abilities, ages 9-14. Some exceptions may be allowed.
WHEN:  Three days during the week; days of week TBD.
TIME:  5:30 p.m.  Times may be adjusted for Daylight Savings, events, and weather.
WHERE:  Day Creek Park, Victoria Groves Park, RCHS, and other locations if needed.
EVENTS:  Track meets and local 5k races mostly on the weekend.
COST:  $45 per month or $200 for the entire season.  Family discounts available for this option.  Registration is now open.  If paying monthly, we recommend you register online to reserve your spot and sign waiver, the remaining payments can be made in store.

Registration:  Follow us on Facebook, subscribe to our newsletter, or visit our website for the latest details. Thank you!                       
What We Expect
Positive Attitude                                                        
Good Sportsmanship
Be On-Time
Respect for Self and Others
Good Academic Performance
Effort
Gazelles-Winter 2018!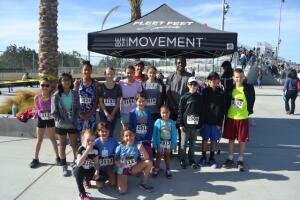 Tentative Meet Schedule for Fall 2019: 
Coach Caleb is planning on attending most events, but he does have other commitments with his college courses and athletes.  In the event that Coach Caleb can not attend, our "Team Mom" will be stepping in to assist.  Thank you everyone for your cooperation.  

March 14, 2020 - Bay City Unleashed "B"
March 28, 2020 - L.A. Jets Relay Carnival "B"
April 4, 2020 - Chino Pumas Invite "B"
April 18-19, 2020 - Imani Speed City Invitational "A"
May 2, 2020 - Bay City Unleashed Invitational "A"
May 22-24, 2020 - L.A. Jets Invitational "A"
May 30-31, 2020 -Pacific Coast Shock Waves "Last Chance Qualifier" "A"
June 5-7, 2020 - USATF So Cal Association Youth JO Championships
June 12-14, 2020 - 2020 USATF Region 15 Youth Track & Field 
July 27- August 2 - USATF Youth National JO Track & Field Championships - at Jacksonville, FL
Gazelles Youth Run Club More Info »
Program Start: Week of Jan. 13, 2020
Program Schedule: Three days during the week and some weekend days, 5:30 p.m. to 7:00p.m.
Program Fee: $200 for the entire session or $45 a month, excluding race fee