Plantar Fasciitis
Plantar Fasciitis is the inflammation of the tissue running from the heel to the toe of the foot. Plantar Fasciitis can be recognized by its distinct sharp stabbing pain in the heel during the early parts of your day, especially just upon waking. It can effect anyone, no matter their activities or age.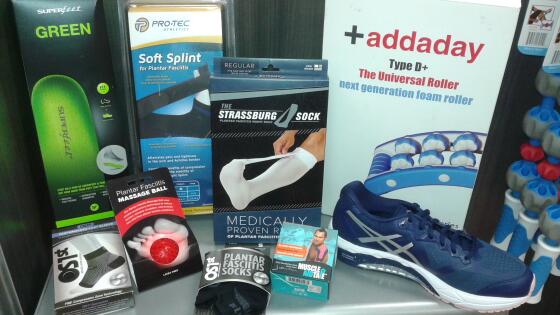 Solutions to help Plantar Fasciitis include:
The Plantar Fasciitis Massage Ball which utilizes acupressure techniques in order to ease discomfort, tightness, and increase circulation, provides quick relief from symptoms.
Superfeet also has a wide variety of insoles that serve as an excellent solution for plantar fasciitis by providing support, shock absorption, and a way to evenly distribute the pressure from walking and running.
Both the Strassburg Sock as well as the Pro-Tec Soft Splint offer a way to stretch the plantar fascia in order to help reduce and relieve the pain associated with plantar fasciitis. The Strassburg Sock and the Soft Splint along with insoles and supportive shoes are among the top solutions offered for Plantar Fasciitis by doctors.
The OS1st Plantar Fasciitis Socks aid in the relief of plantar fasciitis by providing the wearer a more mobile option for their relief. These are recommended along with the other options as an additional step to assist in the resolution of plantar.
The Addaday Universal Roller will assist in the quick relief of plantar fasciitis symptoms by allowing a way for the user to stretch out their plantar fascia. The unique benefit of this option is that it is a stable unit that can also be used for massaging the rest of the body as well as the feet.
Muscle Aid Tape is another great way to help in the quest for relief from Plantar Fasciitis, it offers an innovative way of helping to stretch the plantar fascia during daily activities.
Supportive shoes are going to be the base layer for aiding in the resolution of plantar fasciitis. Wearing unsupportive and ill fitting shoes are detrimental to the resolution of plantar fasciitis.
All of these products work best in conjunction with one another.