The Future of Sports Nutrition is Changing!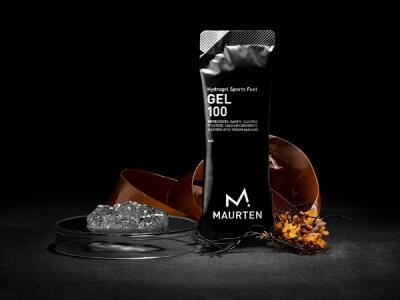 Carbohydrate Encapsulation
Maurten started researching a better way to create sports nutrition products for endurance athletes back in 2015. "He was experiencing severe stomach problems during Ironman races since he was consuming a lot of sugar while moving," says Herman Reuterswärd of Maurten. "After researching all the available sports drinks and energy products on the market, Maurten felt like there must be some way to reduce the risk of gastrointestinal issues during a race."
So, he got to work in the lab. What if carbohydrates could be transported through the body by way of hydrogel? Fryknäs experimented with it and, as he expected, it worked.
Alginate (a fiber extracted from seaweed) and pectin (found in fruits and vegetables like apples and carrots) create a capsule that contains salt, glucose and fructose. Thanks to that encapsulation, the body can absorb more carbohydrate with relative ease through the digestive tract (peer-reviewed studies pending). And so far, the feedback from professional athletes has been unanimous: it works, and it eliminates GI issues … period.
"The biggest factor for my training has always been GI issues," says Allison Linnell, a Boulder, Colo., based professional triathlete. "Any endurance athlete has struggled with this in the past, and it can make or break your race. Maurten provides the perfect amount of energy without causing GI distress."
Stanley Kebenei, an elite Kenyan-American distance runner, echoes Linnell: "My nutrition has changed completely since using Maurten; I feel like I can do more workouts than I used to be able to do without any problems."
That's because when the drink mix hits the stomach acid, it transforms into a hydrogel immediately. According to the company's research, this means that transportation from the stomach to the intestines goes smoothly, and your body is better able to absorb the maximum amount of water, salt and carbohydrates.
"We implemented Maurten into our training to help with my carbohydrate intake," says Manteo Mitchell, a US 400-meter World Champion and Olympic Medalist who uses Maurten regularly in training. "A high concentration of energy and carbs are essential to my performance levels, but they need to be easily absorbed and fast for what I do."
The world's first gel
And there's more. In addition to the drink mix, Maurten is launching a brand-new gel, the Gel 100, which elite athletes across the world have already been hard at work testing. Also, scientifically speaking, it's actually the first gel … ever.
"When people think about a gel, they think about it just being another syrupy thing," says Reuterswärd. "But this is a real gel; a syrup isn't technically a gel. That's why we're calling the Gel 100 the world's first energy gel."
What's more, the products hardly have any taste at all. Sure, they're a little sweet, but only slightly when compared to most energy products currently on the market. That's thanks to the combination of encapsulation and no added flavors. And, you don't even have to dilute them by downing them with water.
Says Reuterswärd, "This is going to change everything about the way people train and race."