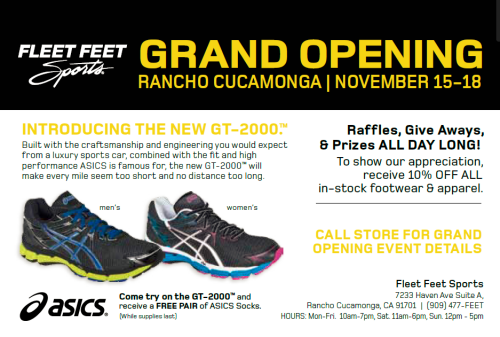 Our festivities begin on Thursday with a ribbon cutting ceremony with the Rancho Cucamonga Chamber of Commerce from 11:30 to 12:30. 
Thursday, Nov 15 - Today is Asics day! Come in for a chance to win a pair of Asics shoes and all Asics

shoes are 15% off.  Balloon sale from 4 to 6 p.m.  Pop the balloon to find out how much you save on your purchase -up to 50% off.  Then join us for a fun walk/run at 6:30-7:30 pm.
Friday, Nov 16 - Ladies Day! We are having a bra fit event and all bras and apparel are 15% off (excludes accessories). Ladies, you can call us to pre-schedule your FIT and get some special treats between 5 and 7 p.m.  Let's celebrate Brooks day!  All Brooks shoes are 15% off. A pair of Brooksshoes will be raffled off today, come in for your chance to win.   
Saturday, Nov 17 - We're having a nutrition clinic after our No Boundaries 5K training from 10 a.m.-12 p.m. with Breezy.  She'll have healthy treats and share her tips on eating to lose weight. Viva La Vegan Market will be here from 12 to 2 p.m. with tasty vegan samples and information about nutrition.  After 2 p.m. we will feature Honey Stinger, GU, NuuN, and Jelly Belly nutrition and hydration.  Samples will be offered as well as a 15% discount on all nutrition.  
Sunday, Nov 18 -  Meet New Balance athlete and R.C.H.S. alumni, Brenda Martinez.  She is an Olympic  trials finalist and is the world's fastest Miler for 2012.  You can learn more about Brenda, and all that she has accomplished, on her website. Come join her for a short jog/run at 10 a.m. She will then sign autographs at the store where there will be light refreshments and breakfast goodies to snack on.  Let's celebrate New Balance day!  All New Balance shoes are 15% off and we will be giving away a pair.  Look on Facebook to find out how.  Family and Friends of No Boundaries athletes, come in and enjoy 15% off today only.