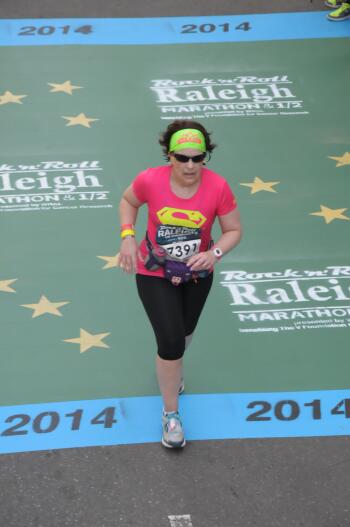 Q: How long have you been a runner?
A: I've been running on and off for about 15 years, but since I started doing Fleet Feet programs in the fall of 2012, I've been able to stick with it, even through the icky winter months.
Q: What do you like best about running?
A: I love the sense of accomplishment, and all of the great friends I've made. Plus, it's a great way to spend quality time with my dog!
Q: Where is your favorite place to run?
A: Shelley Lake
Q: Favorite race experience?
A: The Army 10-Miler. I've run it 3 times and it's still my favorite race. Starting and finishing at the Pentagon and running past all of the DC monuments is inspiring and amazing. I haven't done it since I left the DC area many years ago, but hope to go back and do it again someday.
Q: Other favorite running moment(s)?
A: Seeing people I mentored in No Boundaries become half marathon finisher at Rock 'n' Roll Raleigh this past April. I hope they know what an inspiration they all are to me.
Q: How has running changed your life?
A: It's improved my health, given me life-long friends, and gets me outside on a regular basis.
Q: How many times have you mentored FF programs?
A: Four
Q: What's your favorite thing about being a mentor?
A: Watching people who start off full of self-doubt become confident runners.
Q: Any tips for new runners?
A: Take it easy. If you start off trying to go too fast, or do too much distance, you'll get frustrated and probably won't stick with it. Find a program (like NoBo) that eases you into running, and give yourself permission to start off at a slow pace.
Q: Favorite piece of running-related equipment?
A: My Garmin Forerunner 10. It's pink and it's awesome.
Do you love inspiring others? Consider becoming a
Fleet Feet Mentor. Click here for details!