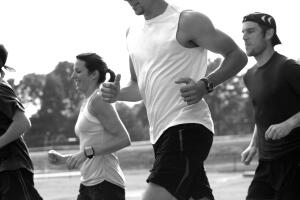 10K TRAINING - TAKE YOUR TRAINING TO THE NEXT LEVEL
Our 10K program is designed for runners and run/walkers who are looking for a new challenge beyond the 5K. Like No Boundaries, this program features two weekly workouts plus a series of brief seminars on topics like injury prevention, nutrition, cross training, and more! Our experienced coaches and mentors will help to ensure that you get the most out of your training!
Next offered:
Program starts Wednesday, March 28
Wade Avenue - Register
Market at Colonnade - Register
Park West Village - Register
FREQUENTLY ASKED QUESTIONS
Q: When does the program meet?
A: We meet on Wednesdays at 6 p.m. and Saturdays at 7:30 a.m.
Q: How much does the program cost?
A: Registration costs $100. This includes a technical shirt, coach-led workouts two days per week, a detailed training plan, and a series of short seminars on topics including running form, injury prevention, cross-training, apparel and gear, nutrition, and race preparation strategies.
Q: I'm a beginner. Do you recommend this program?
A: If you are completely new to running, we recommend that you start with our No Boundaries 5K program. If you're completed a 5K, or can comfortably run two to three miles, this is a great next step up! It's also a great option for experienced half marathoners looking to improve their speed.
Q: If I have to miss a workout or two, does that mean I can't be part of the program?
A: Of course you can still be involved! We would love to have every training group participant at every run, but we understand that life and obligations may occasionally get in the way. That said, if you're planning to miss more than half of the workouts, please check in with our training program coordinator before signing up.
Q: How do I register?
A: Please register online through Fitvil. If you've never participated in one of our training programs before, you'll need to first create a Fitvil account, and then register for the program.
Next offered:
Program starts Wednesday, March 28
Wade Avenue - Register
Market at Colonnade - Register
Park West Village - Register
You can also contact our training program coordinator, Gina, at gina.james@fleetfeetmorrisville.com
Next Level 10K (Morrisville) More Info »
Program Start: Wednesday, March 28
Program Schedule: Wednesdays at 6pm, Saturdays at 7:30am
Program Fee: $100