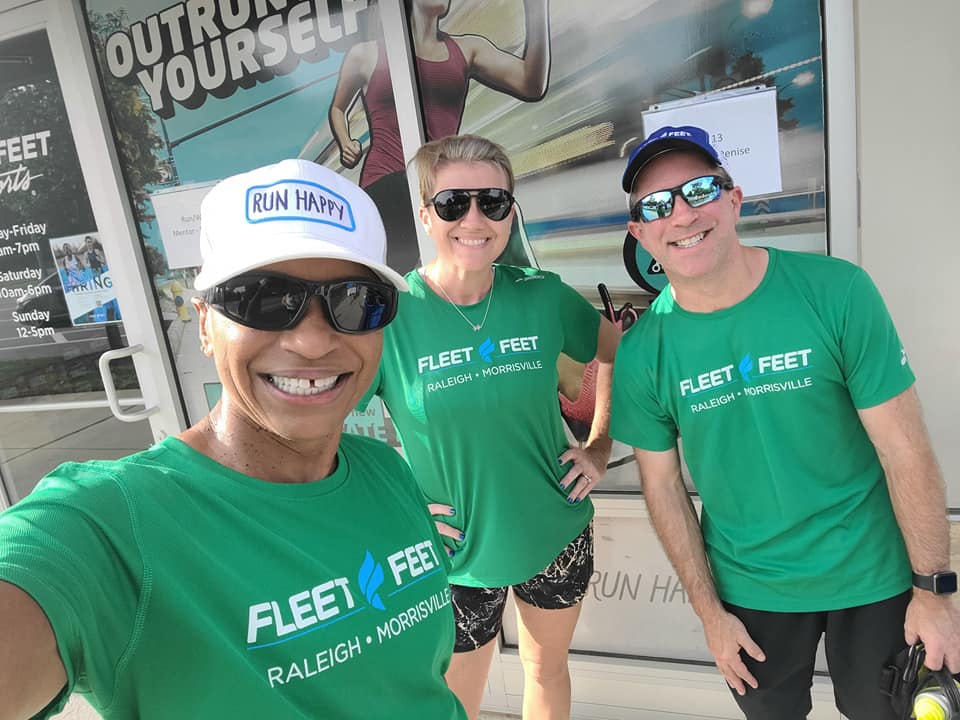 The Fleet Feet Mentor Team is a passionate group of experienced runners and walkers who help people reach their training and fitness goals.
To become a part of our Fleet Feet Raleigh or Morrisville mentor team, please fill out the online application.
As a mentor, you will provide advice, share knowledge and experiences, and teach. Everyone has a story. Tell your story. Listen to participants and build confidence and trust in participants by empowering them to see what they can do. Most importantly, be prepared to make a huge difference in people's lives!
You will be a role model, a source of energy and inspiration to help participants not just get to the finish line of their goal race, but inspire them to see that lifetime fitness can be achieved and maintained for the rest of their life! You're the motivation!

What are we looking for in a Fleet Fleet Mentor?
Fleet Feet Ambassador
Past training group participant (preferred, but not required)
Motivate and inspire participants
Provide advice, share knowledge and experience
Be a source of information, energy and inspiration
Assist coach and arrive early/on time to understand route and weekly topic of discussion
Pace assigned group & must run/stay with assigned group on every run
Promote safety
Relay critical information, suggestions and concerns to the Head Coach
Attend seminars and events throughout program
If you have questions about becoming a mentor, please contact our training program coordinator, Gina, at gina.james@fleetfeetmorrisville.com.
To become a part of our Fleet Feet Raleigh mentor team, please fill out this online application.
Become a Training Program Mentor More Info »
Program Start: varies
Program Fee: free
Description: For information on mentoring training programs at Fleet Feet Raleigh/Morrisville, contact Gina James at gina.james@fleetfeetmorrisville.com.