Shoes, Apparel, & Accessories On Sale This Weekend
With Black Friday and Small Business Saturday falling back-to-back, the weekend after Thanksgiving will be the perfect storm of special holiday deals. To simplify things, we're planning to offer the same great deals all weekend, including:
*10% to 20% off select shoes,                    *20% off all in-stock apparel & Bras,
plus discontinued models for $50                  with deeper discounts on many items   
*20% or 40% off select accessories:                    *20% off Bob Strollers 
Soleus watches, Tifosi Sunglasses,
Moji and The Stick (Massage products)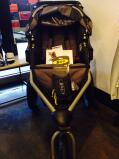 Shop Early to Earn an Additional $5 - $50 Off
On Friday, and again Saturday, the first 50 customers to make purchases at each store will have the chance to randomly draw for Fleet Feet Raleigh gift cards ranging in value from $5 to $50. Discounts may be applied immediately or saved for later.
As a special thanks for supporting your local running store, we'll also be giving away one free Fleet Feet "Be the Movement" technical T-shirt each hour.
And as always, we'll be offering free holiday gift wrapping, as well as suggested stocking stuffers for your favorite runner.
Thanksgiving Hours
Reduced Hours Thursday
The Wade Avenue store will be open during the Ridgewood Turkey Trot, from 7 to 10:30 a.m. on Thanksgiving morning. Our North Raleigh location will be closed on Thanksgiving. Both stores will be open normal business hours the rest of the holiday weekend.
Turkey Trot
Packet Pickup Deals
Packet pickup for the Ridgewood Turkey Trot takes place at the east end of Ridgewood Shopping Center Tuesday from 4 to 7 p.m. and Wednesday from 3 to 7 p.m. 
After you pick up your packet, stop by our Wade Avenue store for some early holiday deals on shoes, apparel, and accessories. Be sure to check out our collection of Mizuno Breath Thermo apparel. Mizuno, a race sponsor, is offering a free pair of Mizuno socks with every Mizuno purchase, while supplies last.