BOOK AN APPOINTMENT
RALEIGH (WADE AVE.) NORTH RALEIGH MORRISVILLE
Even with the continued threat of COVID-19, we strongly believe running remains essential to a healthy lifestyle and can still be done safely following the CDC's recommended social distancing measures.
Running is at our core. And so we are continuing to serve our running communities in accordance with local and federal guidelines.
Our Services
In-Store Fit Process
We have modified our in-store experience to create a safe, responsible retail environment where everyone can shop and work safely. See the changes to our process below:
We are currently welcoming walk-ins for shopping and shoe fittings at all three of our Raleigh & Morrisville locations. However, if are planning in advance, you are welcome to make an appointment. Especially on busy weekend days, this enables us to minimize wait times while adhereing to maximum occupancy restrictions. Select your preferred location and schedule an appointment here: Raleigh | North Raleigh | Morrisville.
We request that anyone who has not been vaccinated wear a mask or face covering while inside the store. If you are feeling sick, we ask that you visit us when you are feeling better.
Social distancing guidelines will be followed throughout the fit process, with no physical contact during greeting, assessment or checkout.
We have hand sanitizer stations placed throughout the store.
Phone Advice/Orders
In addition to our in-store experience, our knowledgeable outfitters are available seven days a week to answer any questions, review past purchases, and take phone orders. Check our hours here, as they may be subject to change.
Wade Avenue: 919-832-8275
North Raleigh: 919-977-1516
Morrisville: 919-377-8497
Contactless Curbside Pickup & Local Delivery
To place an order, give us a call at the numbers above. We can also ship orders directly to you. Shipping within NC is free on shoes and purchases over $100.
Virtual Fitting Appointments (Weekdays Only)
Not comfortable coming into the store? Schedule a one-on-one virtual shoe fitting! Here's how it works:
Request an Appointment: Fill out the request form and a member of our team will contact you to schedule your virtual shoe fitting. Virtual appointments are available Monday through Friday, 10:30-5:30. Please request at least 24 hours in advance of your preferred time. Once your booking has been confirmed you will receive a link to join a Zoom video call when it is time for your appointment.
Make sure you have Zoom downloaded: You can create a free account at zoom.us.
Join the Zoom Video Call: If you've been running or walking already, have your current shoes handy when you log in for your one-on-one virtual shoe fitting. If you're just getting started, be ready to talk about your current exercise routines and goals.
Talk Live With a Fleet Feet Outfitter: Through chatting with one of our shoe experts about your activities and current shoes, they'll be able to help you identify your new favorite pair of shoes. If you've shopped with us before and used our fit id® 3D foot scanning technology, they'll be able to pull up your most recent scan and review your shoe purchase history to personalize their recommendation even further!
Gait Analysis: Using the video features, the Outfitter will ask to see the tread on your current shoes to assess the wear pattern and ask to watch you walk so they can see how your body naturally moves through the gait cycle.
Shoe Recommendations: Based on your conversation, wear pattern and gait analysis, the Outfitter will introduce you to a few options they know you'll love, and they'll help you pick your next pair.
Select Your Delivery Method: Once you've found your shoes, choose how you'd like to receive them. We offer contactless curbside pickup and local shipping from the store, or you can shop online--whille still supporting our local store--at fleetfeet.com.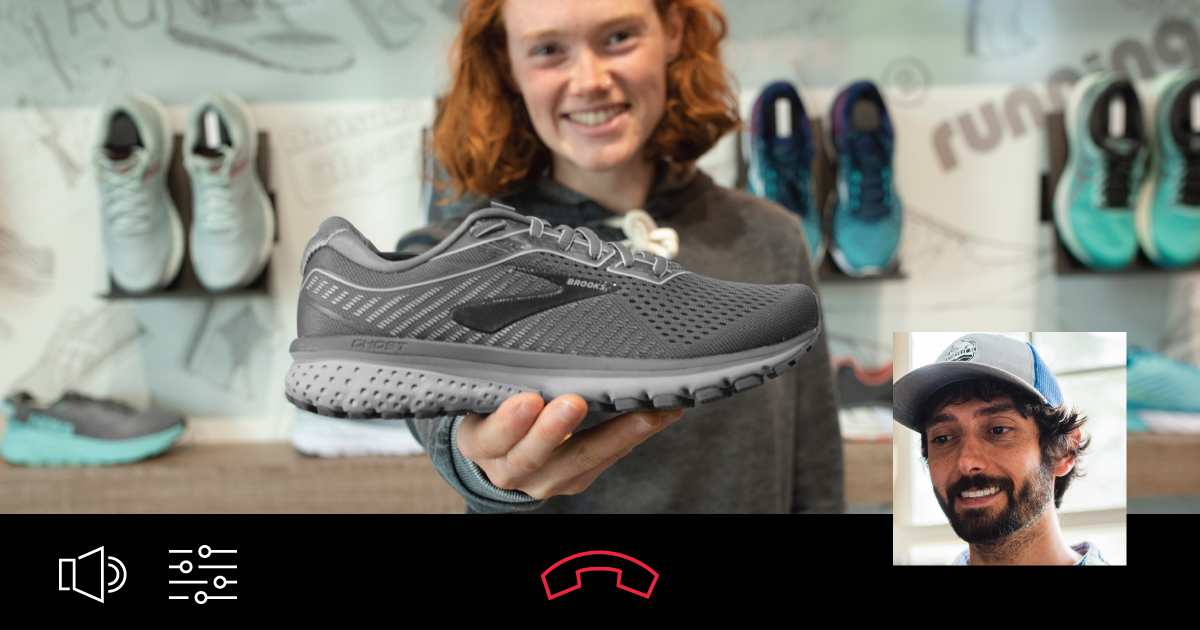 Questions on any of the above?
We're here to help. Please call 919-832-8275 or email jacob.dagger@fleetfeetraleigh.com