This page is intended to give you a sense of what will happen, and when, on Sunday, April 2nd, race day.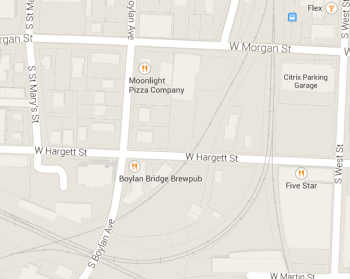 5:45 - 6:00 am: We'll arrive at the site of our water station, which is located on West Morgan Street between South Boylan Avenue and Glenwood Avenue, east of downtown. A truck is scheduled to arrive at 6 a.m. with all of the supplies we'll need for the water station: tables, pitchers, paper cups, trash bins, trash bags, etc. A water truck will follow and fill up the 125-gallon "water monsters." When you arrive, please try to check in with a water station captain.
6:00: Streets along the course begin to close.
6:00 - 6:30 am: Set up! Unload tables and set them up at regular intervals on both sides of the street. Ten to twenty feet beyond the final tables, we'll set up a series of trash bins. Once the tables are set, we will begin mixing Gatorade in cooleres and filling cups with water and gatorade. Some tables will have Gatorade and some will have water. They will be marked, and we'll have instructions for mixing Gatorade.
7:00 am: The race begins downtown! At the water station, we continue filling cups. Each table, when completed, will hold 750-900 cups of water!
7:55 am: The first half marathoners will begin to come through the station, led by a pace car. And we'll be ready! At this point, we'll be divided into teams. Some people will be responsible for handing out water, others cheering, others sweeping up used cups. (Throughout the day, we'll rotate positions.) 
8:30 - 10:00 am: During this time, the bulk of the runners will come through. There are 8,500 total runners, and roughly 7,000 of them are signed up for the half marathon. This window includes runners who are on pace to finish the race between 1:35 and 3:05.
9:15 am: Around this time, we should be ready for the first marathoners to come through. At our station, the street will be divided into two lanes: marathoners will be on one side, half marathoners on the other. Around 9, we'll begin shifting more volunteers over to the marathon side. (Tables and cups will already be set up.)
10:00 - 11:30 am: Runners on pace to finish the marathon in 3:10 - 4:40 will come through our station. If past races are any indication, the first tables are the ones hit hardest. Throughout the day, we'll be filling cups and restocking tables, but as the day winds down, we'll begin breaking down empty tables and loading them back on the truck.
1:00: Around this time, the final runners will come through, followed by a trailing car that will let us know when the last runner has passed. At this time, volunteers who remain will break down the last tables, make sure that all remaining cups are swept and bagged, and load everything on to the truck. Then it's time to go home and take a nap!