Where is our station?
Our station is located on West Morgan Street, between South Boylan Avenue and Glenwood Avenue, just west of downtown. Runners will approach on Boylan Avenue from the south, cross the Boylan Street Bridge and turn right on West Morgan. They'll have just finished running up a big hill, and will be starting the final stretch to the finish We'll hand them water and send them on their way.
What time should I arrive?
The race is Sunday, April 2nd. Our shift officially starts at 6 a.m. We'll need a fairly large group there by 6:00 a.m. to set up tables and begin filling cups of water. (We're talking about tens of thousands of cups! Each table will have between 500 and 900 cups, spread over three layers.) If you can't make it at 6, the RNR volunteer coordinator strongly recommends showing up by 7. After that time, runners will be on the course, and it may be difficult to navigate city streets.
What if I can't make it there before 7:00?
We don't want to leave anyone out of the fun. Please join us when you can. But do email me at jacob.dagger@fleetfeetraleigh.com and let me know what times you think you'll be with us, so that we can plan accordingly. If you're planning to arrive after 7:00, make sure you're not planning to cross the course. You'll have to park outside the loop and walk to the station.
Where should I park?
Parking is on side streets in the neighborhood that surrounds our stop. I've driven the neighborhood and most of the side streets around us have good street parking. Last year I parked on West Morgan, a couple blocks west of the stop. Take a good look at the course map before you come, and be sure not to park on the course itself! We will have volunteer car tags that will allow you to move freely on the course until at least 6 a.m. Between 6 and 7, course monitors may let you though, though people have had trouble in past years. Keep in mind that if you are planning to leave early, the course will be closed while runners are coming through. Using your pass, you may be able to cross the course during breaks in the action, but we can't guarantee it. It might be best to find a parking spot outside of the marathon loop, or a couple blocks north, where streets will reopen once runners have moved past.
What do I do when I show up?
Please find me or Tracey to check in. We'll give you instructions.
What should I wear?
Wear comfortable clothing, and dress in layers depending on the weather. (Fingers crossed that it will be cool, dry, and overcast for the runners, though it's looking like it may climb into the 70s.) The supply truck should give us a box of Rock 'n' Roll Race Crew shirts. If you've got a Fleet Feet shirt or an awesome costume, feel free to wear it so we can show the runners some Fleet Feet love! (Just make sure it's something that will be comfortable for several hours.)
What else do I need to bring?
Food and a drink. We'll have some basic snacks available for everyone: probably pretzels, animal crackers, and maybe some fruit.
We've got Fleet Feet cowbells for everyone so we can make some noise. But you're also welcome to bring pom poms, signs, noisemakers, or anything else that will make the station colorful and entertaining for runners.
Lawn chairs (optional). Throughout the day, you'll have some breaks. If you'd like to sit, bring something comfortable to sit on. Also shade! We'll be setting up a small Fleet Feet tent that will provide some coverage.
Sunscreen/hat/sunglasses. Gotta protect against the sun!
Will there be bathrooms?
There will be porta-potties located near our stop. Those are available to us, as well as to the runners.
What if it rains?
The race will go on, rain or shine! Only in the case of extreme weather (severe thunderstorms, hurricane, record heat, etc.) will the race be cancelled or postponed. If that's the case, we'll let you know by email as soon as we hear. If you don't hear that the race has been cancelled, assume it's on!
When is my shift over?
As a group, our shift runs through 1:10 p.m., but not everyone will have to stay for the entire time. If possible, we'd love to have you stay through at least 11:30 a.m. By that time, all of the half marathoners will have come through, so we'll just be manning the marathon side. But we want to show the marathoners love, too. Our goal is to keep the energy up all day long! (The day is ending a little earlier than in the past, because there's a new 5.5-hour time limit for marathoners this year.)
What do we do in case of emergency, medical or otherwise?
The closest medical tent is in a parking lot adjacent to our stop. Competitor Group has also provided us with an emergency number that we can call at any time during the race.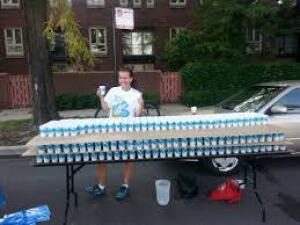 I'm worried that I'll mess up while filling cups.
Don't worry. On race morning, we'll have complete instructions for filling and stacking cups. But to give you a general idea, we'll have a "water monster"—a 125-gallon, gravity-fed barrel, positioned behind every other table. The water monster has hoses coming off of it that you can use to fill pitchers, which you then use to fill cups. Alternately, you can fill cups straight out of the water monster. You'll arrange cups in rows on each table, and then use a hose or a pitcher to go along filling them. Roughly 250-300 cups will fit on a table. But once a table is completed, we'll have a thin sheet of wood that goes over top of the first layer, and we'll begin filling a second layer. Each table will have three layers of cups. Oh, and one important note: Only fill cups halfway! This makes it easier for runners to drink!
Will I have to do the same thing all day?
No! There are several different jobs at the water station—filling cups, passing out water, sweeping away trash, CHEERING—and throughout the day we'll rotate between them. You'll also have a chance to take some breaks.
How will the water station be arranged?
Tables will be set up along both sides of the street. By the time runners reach us, the road will actually be split into to halves, with half marathoners running on one side, and marathoners on the other. We'll still fill all of the tables before the race begins, but the split in the course means that early in the race, much of our attention will be concentrated on the half marathon side. When we get close to the time when we anticipate marathoners coming through, we'll shift part of the team across the street. We're planning to have a Fleet Feet tent somewhere along the block where we can have shade, snacks, and a place to drop extra clothes. Please leave valuables at home or keep them in your pockets!