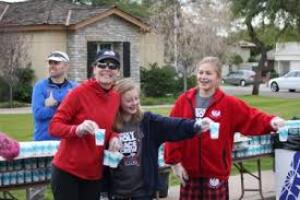 Thanks for signing up to volunteer at Water Station #18! We're excited to show the Rock 'n' Roll runners some Fleet Feet love!
As you probably know, our station is the last one on both the half and full marathon courses. We're located at approximately mile 12.3 on the half course, and mile 25.4 on the full course. Use the following links to learn about how to prepare and what to expect on race day.
FAQ
Race Day Schedule
Other Links & Resources [These are from last year. I'll update soon.]
Also, check out this video from the Virginia Beach Half Marathon!
We can't wait to see you bright and early on April 2nd!
If you have any questions, don't hesitate to email me at jacob.dagger@fleetfeetraleigh.com