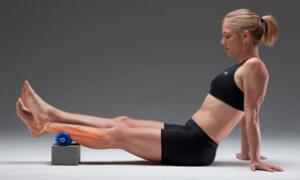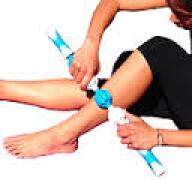 Injury Prevention & Rehabilitation
Aches & Pains: Shin splints, knee pain, tight and sore muscles, ITB syndrome, or even the dreaded plantar fasciitis, we've been there. At Fleet Feet Sports, we offer a wide variety of tools to help prevent and treat many common running injuries. We know firsthand how unbearable it can be to take time off, so we're here to help aid you in a speedy recover, or even better, avoid these problems in the first place.
Among the products that we carry to help your recover are:
TRIGGER POINT THERAPY
Trigger Point Therapy Products allow you to maintain the health of your working muscles on a daily basis instead of waiting until something hurts. They can be helpful in managing recurring problems like plantar fasciitis. We carry a variety of products, including the TP Factor Ball, the Grid foam roller, and the Total Body Kit. Ask on of our staff for a demonstration, or attend one of our Trigger Point Therapy clinics. (Follow us on Facebook or subscribe to our newsletter for up-to-date information on clinics.)
ADDADAY
Addaday is an injury prevention product company that specializes in self-massage tools that are easy to use and don't always require deep pressure in order to work. The unique gear shape integrated into Addaday's massage sticks allows users to target muscles with different types of pressure by alternating between rolling with a wide grip, rolling with a narrow grip, and a rotating around an axis. Many of the benefits of massage come simply by encouraging blood circulation to tight and sore muscles. Even a gentle two- to three-minute massage can make a dramatic difference for your muscles and help you prevent, or recover from, common running injuries. 
SUPERFEET INSOLES
Do your heels hurt in the morning when you first stand up? After a long run or a day on your feet? Have you experienced a burning sensation in your arch? Been diagnosed with plantar fasciitis or battled achilles issues? Then you should strongly consider adding supportive insoles to your shoes. Superfeet insoles are one of the most-trusted over-the-counter adaptive orthotics on the market. Let our staff assist you in determining which Superfeet insert is right for you. We even carry Superfeet for dress shoes and high heels!