The Footwear Fit Process
Step One: Getting to Know You
We listen carefully to your needs, take into consideration any aches and pains, and evaluate your experience with your current footwear.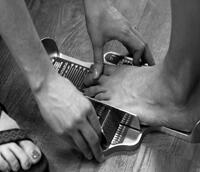 Step Two: Measurement
Several measurements of each foot help us determine proper sizing. We record both un-weighted (seated) and weighted (standing) measurements as well as different point to point measurements. We will take a look at your feet for signs that will help us fit you properly and determine any special needs.
Step Three: Gait Analysis
We'll observe your foot in motion. This helps us determine how you move and the biomechanics of your gait.
Step Four: Fitting and Recommendations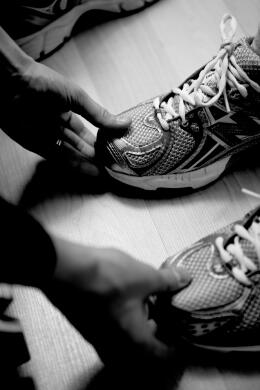 Based on our findings, we will bring out the shoes that may work best for you. We'll carefully inspect the fit and watch as you run or walk in each shoe. We'll discuss the options, provide you with our recommendations and answer any questions.
Step Five: The Decision
This one is all you since you are the only person who knows how the shoes actually feel.
Step Six: Ready to Go
Now that you've made a decision, we want to make sure that you know we are committed to taking care of your additional or future needs.
FAQs of Shoe Fit
How long will my fitting take? Please allow about 45 minutes.  Fittings vary in length depending on your needs and how many solutions we try to find the one that's best for you.
Why don't you use a "foot scanner?"  See the detailed explanation here.
What do I need to bring?  Your current pair of running/walking shoes and orthotics if you have them.
Do I need to make an appointment?  No, we do not take appointments.  Please keep in mind that there will usually be a short wait on weekends so anytime you can visit during the week is best.
I don't run/I don't exercise, can you still help me?  Absolutely!  Believe it or not, many people we work with are walkers and some are just recovering from surgery, injury, or making the first steps to starting an exercise plan.  We are happy to help you find the best shoe for your foot and any special needs. 
How often should I replace my shoes? Running shoes will last around 300 - 500 miles. The amount of time depends on how frequently you use the shoes. See the chart below for an idea on how many miles you put on your shoes in a 6 month period.