Feetured! Product of the Month: 
Feetures Plantar Fasciitis Sleeve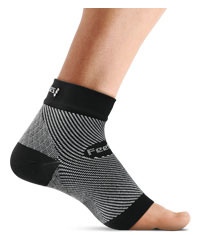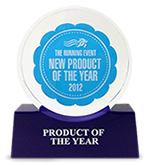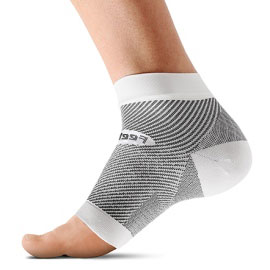 The Feetures! Plantar Fasciitis Sleeve is a unique approach to providing relief of PF symptoms. Unlike other, cumbersome night time only approaches, the Feetures! PF sleeve is easy to slip on, easy to slip off. And, importantly, it can be worn comfortably under socks when active during the day providing extra support. It can also be worn while sleeping to reduce morning heel pain. With the Feetures! Plantar Fasciitis Sleeve there is finally an effective and convenient way to relieve PF symptoms.
...oh did we mention that it won the 2012 "TRE-Mendous Product of the Year" at The Running Event in Austin?
FS6 Technology
The Plantar Fasciitis Sleeve uses patent pending FS6 technology invented by compression specialist David Higgins and endorsed by Roy H. Lidtke DPM, CPed, FACFAOM, and runners everywhere
The FS6 compression foot sleeve provides graduated compression across the arch, foot and ankle at a level to reduce edema and the pain associated with conditions such as Plantar Fasciitis, Heel Spurs, and other related conditions. In addition the dynamic gait adaptation seen with the FS6 sleeves suggests that it may be producing a neuromuscular adaptation to improve foot function.-Dr. Roy H. Lidtke
FS6's graduated compression, light-weight construction, and open-toe construction allows you to wear the Plantar Fasciitis sleeve 24/7 for pain-free day or night.