Winter is an exciting time of year in the store! As the cold settles in, we're keeping ourselves warm by testing out all of this year's jackets, vests, and half-zips. We've also just received updates for many of our most popular shoe models, including the Asics GT-2000v6, Brooks Launch 5, Saucony Triumph ISO 4, Nike Vomero 13, and On Cloudflow.
We've got more info coming on those updates, but in the meantime, check out some of our favorite new running accessories!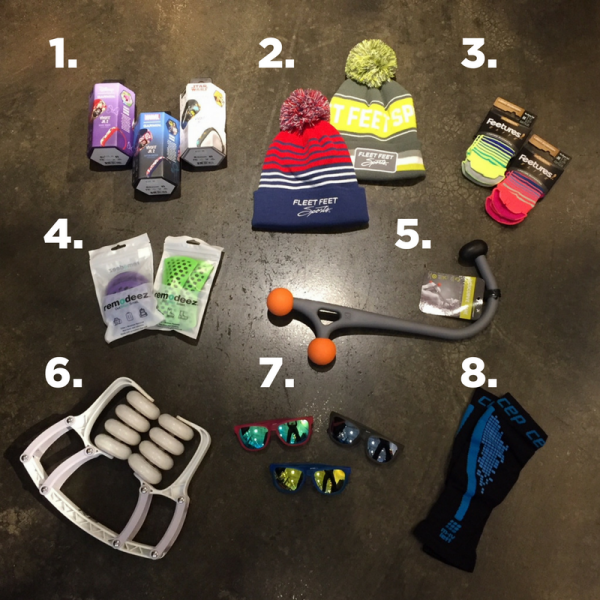 1. The Garmin Vivofit Jr. 2 fitness watch helps kids stay active by meeting challenges and advancing in a "mission" related to the watch's theme. It tracks steps, sleep, and encourages 60 minutes of daily activity.
2. Keep your head warm this winter with technical Pom Pom hats from Boco!
3. Feetures! has updated the look of their popular Light Cushion sock, which features targeted compression in the arch, a seamless toe, and iWick fibers that ensure moistured travels outward instead of staying on the skin. Through the end of the year, these are BUY 3, GET 1 FREE.
4. Do you have issues with odors? Try Remodeez odor + moisture removers. We've loving this natural carbon-based product. It's unscented.
5. We love foam rollers and massage sticks for legs, lower back, and shoulders, but when it comes to your back, sometimes it's hard to get exactly the right spot. For those hard-to-reach spots, we're loving the new Accucurve Cane from Trigger Point. At only $20, it's an easy call to add this to your post-workout toolkit.
6. Over the last year, we've had more and more requests for Roll Recovery's popular R8 massage tool. Its spring-loaded design mimics the pressure of a deep-tissue massage without the "work" of a traditional roller. It's great for quads, calves, and hamstrings. Drop in any time for a product demo.
7. No slip. No Bounce. Polarized. And only $25. What more can you ask for from a pair of running sunglasses? We can't think of anything. That's why we love Goodr!
8. We've always loved CEP's compression socks and sleeves. But for this winter, they've introduced a new Nighttech line that's highly reflective. In addition to offering compression that improves circulation and aids in recovery, these socks and sleeves will make sure you're visible on the road during those early morning and late evening runs.