It is hard to feel disconnected from your own health when you are literally surrounded by support every where you turn!
Hello loyal Fleet Feet supporters!!!  We are Sara and Jenny of Two Meatballs Get Fit!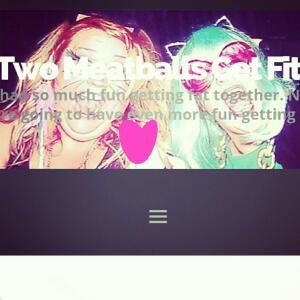 We write a blog about two best friends getting healthy together!!!  We're partnering with Fleet Feet Sports Raleigh on a Community Weight Loss Challenge called Ton of Fun. The idea is for Raleigh to come together and commit to get healthy, and in the process lose 2,000 pounds!
This was us last Christmas...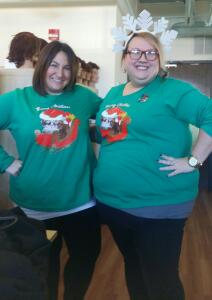 It was Tacky Christmas Sweater day at Samuel Cole Salon where we are both stylists (total dream job)...we were so happy and had no idea that this sad, bloated, hilarious picture of us would inevitably become our before pic!  We actually high fived each other that day bc we were nailing adorable like so hard ...but sadly we were soooo unhealthy and really not good for one another from a health perspective!!! We literally spent most of our days gorging on WHATEVER we wanted (pad thai and pizza) and living the MOST sedentary lifestyle one could ever imagine.  But we got fed up in March and decided to change everything.  This was us last week...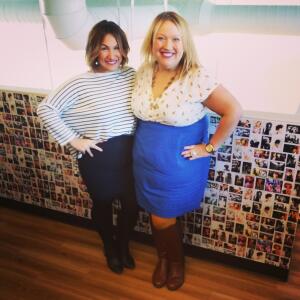 Together we have lost a total of 134 pounds!!!  We had both attempted to lose weight in the past but teaming up and having the accountability and the sense of community of the blog to keep us on track have been the driving force behind our success. We had to find a way to make getting healthy fun, funny and inspiring so that we would actually want to stick to this lifestyle change...and what's more fun than tackling a huge project with your super best buddy!? We shopped around other blogs before we got started and found a lot of really negative " I hate being fat, I hate myself, I would be happy if only I were skinny" blogs and it bummed us out. We have NEVER felt any of that.  While we are seeking a healthier lifestyle we have always been confident girls who love and embrace life.  We saw an opportunity to help people to really feel good about their bodies and accept and love themselves.  On the first of every month we strip down to our skivvies and write our weights down on a chalkboard and put it out into the world...so we realllly have to be honest. This has been so freeing and cathartic! We literally have nothing to hide anymore.  Here are a couple of shots from the beginning to now!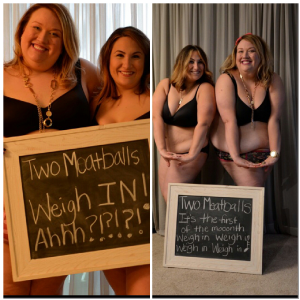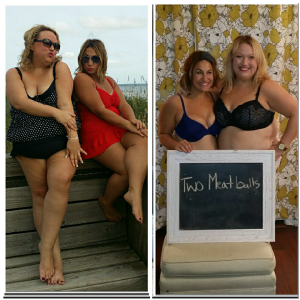 Holy progress batman...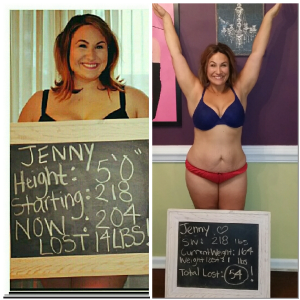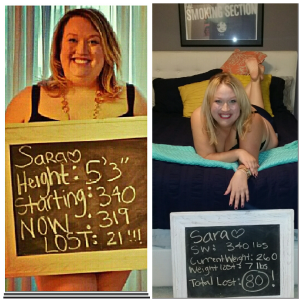 We feeeeeel amazing!!!  Everything is better...we sleep better, look better, move better, think better...you get the idea! And even though everyday is not a breeze we have each other to check in with on a daily basis.  Another big key to success is that we are lucky enough to have surrounded ourselves with the most amazing family, friends, clients and work family two girls could dream of #grateful!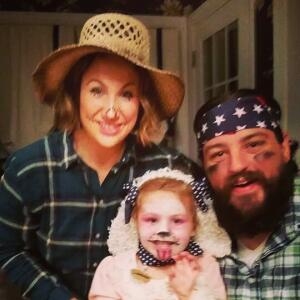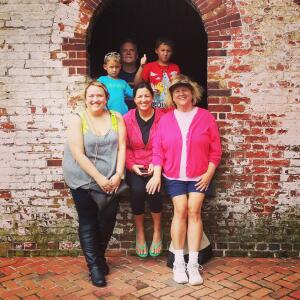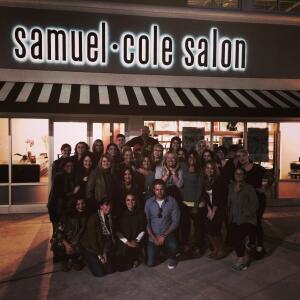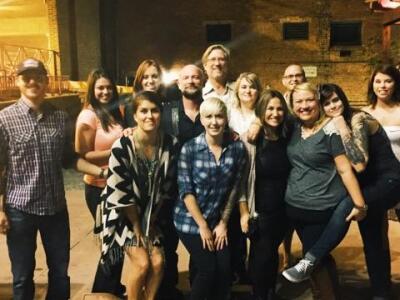 We have both crash dieted in the past and really wanted to embrace a lifestyle change that we could stick to forever.  After countless hours of research we landed on Paleo (no grains, dairy, sugar or legumes...lots of protein, veggies, fruits, nuts and fats!) and Pinterest has been a life saver! Now we grocery shop and cook together alllll the time! It's also super convenient that Whole Foods is in our work shopping center!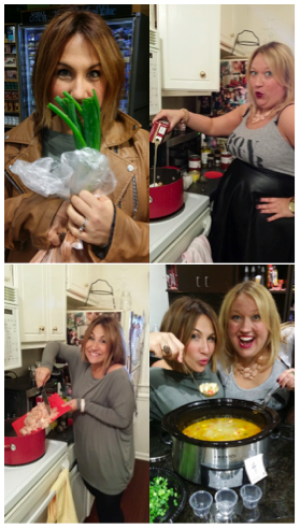 They say food is 80% so cooking together and planning is a huge factor in keeping our heads in the game.  The other 20% is...you guessed it...EXERCISE! A wonderful woman named Sandra Axman of Innovative Fitness Training www.innovativefitnesstraining.com reached out to us when we first started the blog and we have been working out with her once a week ever since.  She has taught us the importance of staying active and how to actually workout correctly without hurting ourselves!!!  We went from couch surfing to burpees...talk about progress!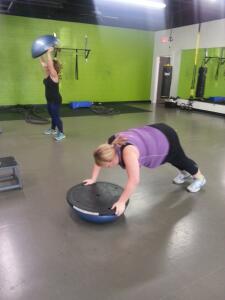 On our off days from Sandra we both belong to Fitness Connection down the street from the salon. It literally takes a village to change your life!  Community is the constant in our journey.  We need each other to make it fun and exciting...we need the support of our loved ones to keep us going...we need the blog to hold us accountable and to put us in touch with others going through this universal struggle...we need a health store in our parking lot at work for days we fail at planning and lastly that brings us to our pals at Fleet Feet.  Jenny and I work three doors down from Fleet Feet North Raleigh.  In May we came in to get real sneakers since we were planning on busting some serious ass with our new trainer! The thought of entering a running store was intimidating to both of us...we were soooo out of shape and everyone who works there is tall and so fit!  But they took us right in and we had the best time!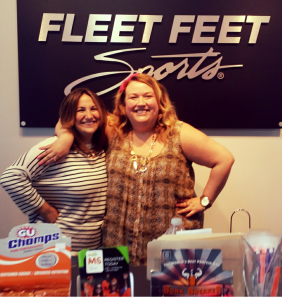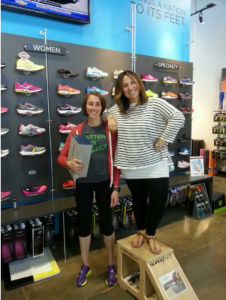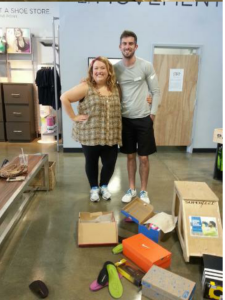 Thus another neighborhood relationship was born!  Fleet Feet is launching a community event called Ton of Fun and these Two Meatballs are joining their 12 week program.  It's a group that starting January 3rd will do weekly weigh ins, you'll have access  to coaches, group workout opportunities,  tips on nutrition and fun ideas to get moving, a weekly newsletter and exclusive Meatball content (yay!)! The goal is to collectively lose 2,000 pounds!  Who doesn't want to be a part of something so dare I say epic??!!!  The sense of team and community has Jenny and I so excited to join the fun!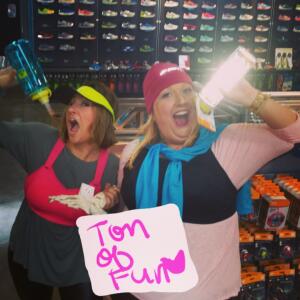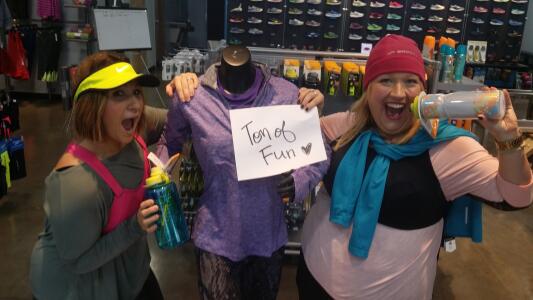 It is hard to feel disconnected from your own health when you are literally surrounded by support every where you turn! Honestly it is the key to success. We hope that you will come join us and Fleet Feet Raleigh to literally lose a ton of weight!!!  Grab a buddy and click on the link above to register and  get all the information and inspiration y'all need!!! We would love to meet you and become a part of your village! Xoxo Also feel free to visit our blog www.twomeatballsgetfit.com We love new friends!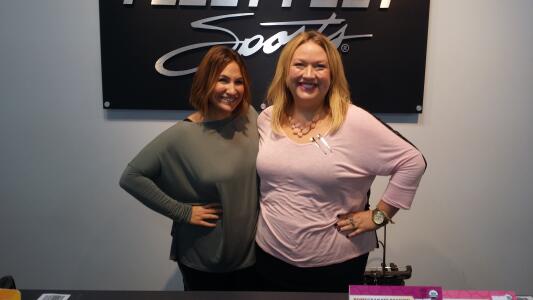 GET MORE INFO & JOIN THE 2015 TON OF FUN
COMMUNITY CHALLENGE NOW!