The Ridgewood Turkey Trot 8K & Kids' Dash takes place this Thursday. Got questions? We've got answers.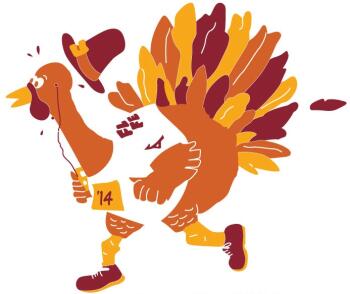 Q: When/where can I pick up my packet?
A: Packet pickup takes place this Tuesday from 4-7 p.m. and Wednesday from 3-7 p.m. in front of Rite Aid, which is four doors down from our Wade Avenue store.
Q: I'd rather pick up my packet earlier in the day. Can I?
A: Unfortunately we do not have access to packets before packet pickup. While Fleet Feet Sports is a race sponsor and host, the race is actually put on by Precision Race. Precision Race handles registration and will be the ones putting together and handing out packets.
Q: Can I have a friend or family member pick up my packet for me?
A: Yes! All they need is your name.
Q: Is it too late to register?
A: Registration is almost full, and the race director anticipates that it will fill up on Monday. There may still be some charity slots open. (They cost a little bit more—$50—but the proceeds go to fighting Multiple Sclerosis.) If so, you should be able to register on the race website or in person during packet pickup.
Q: If I register now, will I still get a race shirt?
A: Yes, but depending on your size, you may have to wait until 10 days after the race, when the next order comes in. You'll be able to pick your shirt up at Fleet Feet.
Q: Does Fleet Feet have any deals going on right now?
A: Of course! Stop by the store after you pick up your packet for refreshments, warm drinks, and a special Turkey Photo Booth. Show your race bib and you'll receive 15% off all full price merchandise.
Q: Where should I park on race day?
A: The main Ridgewood Shopping Center lot will be reserved for Whole Foods shoppers. There will be plenty of convenient parking at Meredith College. Follow the signs on race morning.
Q: Can I run with my dog?
A: Unfortunately the race's insurance does not permit dogs on the course.
Q: Can I run with a stroller?
A: Strollers are allowed in the recreational division. The race director asks that runners/walkers with strollers and baby joggers start near the back.