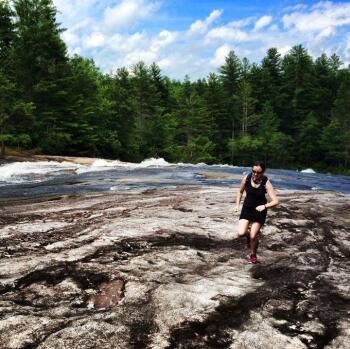 I am a streaker. No, not that kind of streaker! I don't run clothesless across a football field as a spectacle for the crowd. I am a streak runner, which is something not many people have heard of, even in the running community. To obtain that funny title, you must run every day in the sun, rain, sleet, or snow, without a day off, for at least 365 days. After that one year point, you officially become classified as a streak runner by the United States Run Streak Association. Do you think you are up for the challenge?
I began streak running in 2013 as a way to raise money for the Livestrong Foundation in honor of a friend's mom who was battling cancer, and later sucummbed to the terrible disease. That year I created "Run 365 to Beat Cancer," which has since allowed others to try their hand at streak running for a good cause. My streak began on January 1, 2013, and was scheduled to end on December 31 of that year, but instead, I am still running daily.
Although doctors certainly do not recommend attempting a running streak, I do. If you are looking for an activity to test and build your physical and mental strength, streak running is a rewarding option. It changed my life for the best, and maybe now it can change yours. Though I must admit, you need to be a little bit crazy, obsessive, and compulsive to start something like this. It has its risks and rewards.
The risky side of streak running is as obvious as the scars on my knees and the banged up toe on my right foot: not taking a rest day means putting yourself in situations that may be less than ideal. In committing to this lifestyle, I forced myself to run on a broken toe, hours after developing pneumonia, and the dreaded day after a marathon (or worse, ultra-marathon). Yes, those troublesome days were not highlights in my life as a runner, but I told myself that they were simply road-blocks on my path to the special moments later down the road.
On the other hand, streak running has to be one of the most rewarding activities I have ever taken part in. It has a way of teaching you quickly about commitment, adventure, and that your mind and body is stronger than you ever imagined. Even if attempted for a short time, this path to fitness, although obscure, is life changing. I went abroad to Germany the year I began my streak, and my commitment to it led me to some of my most treasured memories: running laps around London-Heathrow airport (and being questioned by customs and security), doing hill repeats in an Alpine paradise dusted with snow, and visiting the luminous Brandenburg Gate on a midnight run in Berlin. Streak running simply puts you outside of your comfort zone, and opens up so many possibilities.
I encourage any runner to research the United States Streak Running Association and possibly find someone in the community who also commits to streak running. Local Raleigh resident Barbara Latta, 73, may be a good place to start. She has run every day since December 5, 1980, over 11,000 days straight. If you start running now, you may catch up to her in the future!
Kathryn began working at Fleet Feet in 2014. This summer, she is planning a 1,000-mile solo run from Normandy, France to Berchtesgaden, Germany to raise money and awareness for Camp Toccoa at Currahee and help preserve World War II veterans' legacies. Learn more at runforcurrahee.com.